NFL's Path to $25 Billion Hinges on 12-Year-Old's Mobile Apps
Scott Soshnick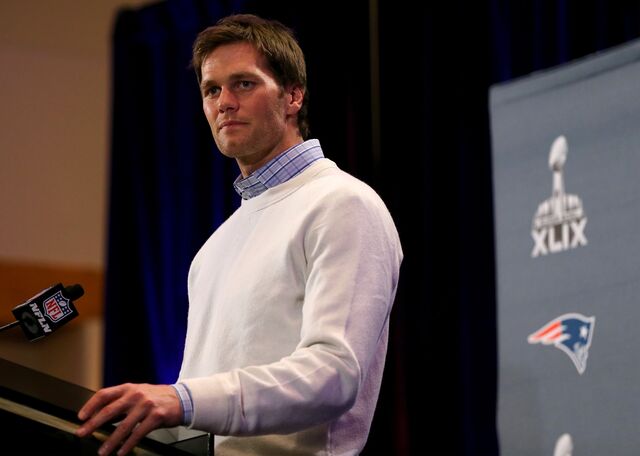 The National Football League's ability to reach its $25 billion revenue target hinges on kids like Ethan Minkoff, a 12-year-old New England Patriots fan whose iPhone 5c displays icons for the league's mobile application, ESPN's fantasy app and Electronic Arts Inc.'s Madden game.
A seventh grader with instant recall of his favorite players' statistics -- quarterback Tom Brady and cornerback Darrelle Revis -- Minkoff said his penchant for football on the go makes him the rule, not exception, at Ephraim Curtis Middle School in Sudbury, Massachusetts.
"I watch the games on TV, but everything else is on my phone," said Minkoff, who also uses a MacBook Pro and Xbox One. Sports leagues and advertisers are taking notice of their customers' migration to mobile, said former National Basketball Association Commissioner David Stern, who was dubbed "Digital Dave" because of his early adoption of new media.
"Digital holds great promise for revenue development, especially through social media," Stern said. "And the potential for all forms of digital revenue growth on a global scale is extraordinary."
Perkins Miller, the NFL's chief digital officer, said he's focused on video, social and mobile, which has posted better than 60 percent year-over-year growth. The NFL has seen "triple digit" growth in referrals from social media, while video consumption is up about 70 percent, Miller said without providing specifics.
The NFL has agreements with Google Inc.'s YouTube, Facebook Inc. and Twitter Inc., which Patriots President Jonathan Kraft, chairman of the league's digital committee, has said generates "tens of millions of dollars." The NFL last month said it would begin posting video clips on Facebook, after which an ad from league sponsor Verizon Wireless would be shown. Verizon customers can also watch live games on their devices.
Driving Force
"In four to five years there will be even more traction and these will be a driving economic factor for us," Miller said, declining to project digital revenue.
The predominant cash flow of professional sports teams comes from media, said Brian Rolapp, chief operating officer at the NFL, which reaped about $10 billion in revenue last season. Commissioner Roger Goodell has a stated goal of $25 billion by 2027.
The NFL, as it did last year, will stream the Feb. 1 Super Bowl between the Seattle Seahawks and Patriots online and via its mobile app.
Lee Berke, a media consultant to professional sports teams and college athletic departments, said leagues are only beginning to learn how to profit from new technology.
Focused Advertising
The real money will come when leagues offer multiple streams on multiple platforms, Berke said. So, for instance, fans at home will be able to personalize their viewing, picking camera angles or commentary. Most importantly, that allows for advertisements tailored to individual users as well as the network.
"Digital is going to be a critical component of reaching that $25 billion goal," said Berke, founder of LHB Sports, Entertainment and Media Inc.
Advertisers are committing more of their budgets to digital platforms, according to Leika Kawasaki, co-author of a study by Strategy Analytics, a global research and consulting firm.
Advertising spending in the U.S. will be about $187 billion this year. Digital is about 28 percent of that, or $53 billion, and growing at a rate of 13 percent this year. Digital is the fastest-growing category, the report said. Advertising on social media will see the most growth at 31 percent, followed by video at 29 percent and mobile at 20 percent.
Shifting Revenue
By 2018, TV's share of ad revenue will fall to 40 percent, while digital's will grow to 35 percent, the report said.
"Advertisers love it," the NFL's Miller said of digital opportunities. "The demand we get from sponsors is 'let me tell my story across platforms.'"
Leo Hindery, chairman of InterMedia Partners LP, said he's skeptical that digital will yield riches because the league won't do anything to upset a traditional TV model that this season generated about $6 billion in revenue.
"You've got an absolute fortune invested in television by the four networks," Hindery said.
NFL content is helping not only the league but partners like ESPN, which pays about $1.9 billion a year for "Monday Night Football."
The Walt Disney Co.-owned network said it reached 23.1 million people in the U.S. daily across devices in December, up from 6.2 million a year ago. Moreover, 61 percent of ESPN's unique users -- about 53 million people -- exclusively accessed content on smartphones and tablets. That bodes well for ESPN and the NFL, said John Kosner, the network's executive vice president of digital and print media.
Video Content
"Digital distribution provides the league an opportunity to expand its business by creating new content initiatives, new partnerships and reaching more fans worldwide," he said.
The NFL this season asked its teams to deliver an unprecedented amount of content for NFL Now, the league's personalized video service that began about a year ago with Microsoft Corp., Verizon, Yahoo! Inc. and Procter & Gamble Co. as partners. The league has played regular-season games in London since 2007, including three this season and next, in an attempt to build its customer base across Europe.
Mostly Mobile
According to the NFL, fans have logged into NFL Now from more than 22 million devices, a majority of them mobile phones. Most of the video consumption occurs through connected devices such as Xbox.
Joyce Minkoff, the mother of Ethan, the seventh-grader, said her living room is proof positive that the NFL is sitting on a goldmine.
"When my son and his friends are watching the game, you would think their eyes would be glued to the TV. Nope. Their eyes are down looking at their phones," she said. "They're glued. For the NFL, the opportunities are limitless. It's not just the TV."
Before it's here, it's on the Bloomberg Terminal.
LEARN MORE