McDonald's CEO Don Thompson to Step Down
Craig Giammona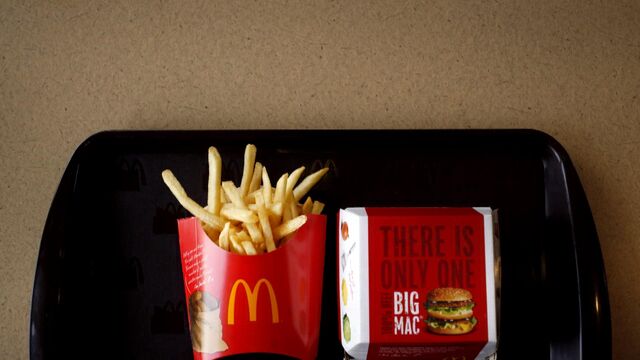 McDonald's Corp., the world's largest restaurant chain, will replace Chief Executive Officer Don Thompson with one of his top lieutenants following the company's worst U.S. sales slump in more than a decade.
Chief Brand Officer Steve Easterbrook will take the reins when Thompson steps down on March 1, the Oak Brook, Illinois-based company said in a statement Wednesday. Easterbrook, currently a senior executive vice president, also will join the board, filling Thompson's vacated seat, the company said. Thompson, 51, had been in the CEO job fewer than three years.
"With sales stagnant for this long, there's been a lot of push for change," said Will Slabaugh, an analyst at Stephens Inc. in Little Rock, Arkansas. "They had to show investors they're serious about changing and improving sales."
The shares jumped as much as 3.5 percent to $91.90 in late trading after the announcement. McDonald's stock had slumped 3.4 percent last year, trailing an 11 percent gain by the Standard & Poor's 500 Index.
McDonald's, which has more than 36,000 locations worldwide, hasn't posted U.S. growth since October 2013, hurt by competition from fast-casual chains such as Chipotle Mexican Grill Inc. Sales at U.S. locations open at least 13 months fell 2.1 percent in 2014, the biggest yearly decline for the restaurant chain in its home market since at least 2001.
Administrative Officer
As part of today's shake-up, Chief Financial Officer Pete Bensen will take the newly created job of chief administrative officer and help oversee the company's operations. Kevin Ozan, corporate controller, will assume Bensen's CFO duties.
Easterbrook, a 48-year-old from the U.K., started at McDonald's in 1993 as a manager in London. He left the company in 2011 to become CEO of PizzaExpress Ltd. and then Wagamama Ltd., two British chains, before returning in 2013.
McDonald's shares increased less than 1 percent during Thompson's 31-month era, trailing the average 33 percent gain of the 30 stocks in the Dow Jones Industrial Average. The company ranked 26th in the index over that period, ahead of only Chevron Corp., Caterpillar Inc., AT&T Inc. and IBM Corp.
The shares got a short-lived boost in December after signals that activist investor Bill Ackman might target the company. The billionaire had said that McDonald's could be managed better, leading to speculation he would take a stake. Ackman told Bloomberg Television this month that he's content with his investment in smaller rival, Burger King Worldwide Inc. and considered McDonald's stock price rich.
'Not Cheap'
"It'd probably be unlikely for us to be competing with ourselves," Ackman said in the interview. "And I think McDonald's stock is not cheap."
With dividend of almost 4 percent underpinning the shares, "it's not as interesting because the dividend supports a value that I think is maybe not justified based on the current performance of the company," he said.
McDonald's has about 14,200 restaurants in the U.S., more than any other market. While it remains the nation's largest burger chain, the company has struggled to stay relevant with millennials -- people in their 20s and 30s who have shunned the one-size-fits-all model of traditional fast food. Chipotle and other fast-casual restaurants, meanwhile, are picking off young customers.
Create Your Taste
To compete, Thompson kicked off a program called Create Your Taste that offered a more customizable menu -- including a build-your-own-burger option. But that project is still in a limited trial. McDonald's also has lost its reputation as the low-cost leader, with rivals such as Burger King offering cheaper deals on chicken nuggets and other items.
Thompson replaced the head of the U.S. division twice in less than two years, but it didn't bring more customers to the Golden Arches. In the end, the board ran out of patience, said a former McDonald's executive. Thompson also was seen as a micromanager and ignored a push by other executives to offer healthier and more varied food, said the person, who asked not to be identified because the matter is sensitive.
McDonald's declined to make Thompson or Easterbrook available for interviews.
Thompson, a 25-year company veteran who started as an electrical engineer, was the the first black CEO of the company. He took the CEO job after serving as president of McDonald's USA and operating chief.
Thompson climbed the corporate ladder after spending part of his childhood a few blocks from the Cabrini-Green public housing project in Chicago, most of which has since been demolished. He earned a bachelor's degree in electrical engineering from Purdue University in 1984 and worked at what was then Northrop Corp. before joining McDonald's.
"It's tough to say goodbye to the McFamily, but there is a time and season for everything," Thompson said in Wednesday's statement. "I am truly confident as I pass the reins over to Steve, that he will continue to move our business and brand forward."