Source: Bonham's via Bloomberg
Auctions
You Can Own a Banksy for Only $5,317
Although most of the other 33 lots beat their high estimates at the Bonhams sale
By
Banksy is known for his street art, but it's his paintings, sculptures, and screenprints that have auction houses and art market speculators salivating.
Today, Bonhams London auctioned off 33 works by the pseudo-anonymous, British graffiti artist, including a stencil on canvas called Precision Bombing that depicts figures in black in the path of a gun sight. The work has been bought and sold a whopping seven times since its creation in 2000. It sold just now for £40,000 (approx $60,000)—£10,000 above its high estimate of £30,000. Meanwhile, Silver Flag took in only $5,317.
Two of the Banksy piece for sale today were sculptures, and the rest were editions—most out of 150—from the collection of Steve Lazarides, the artist's first dealer and the man largely responsible for pivoting Banksy's graffiti from vandalism into an effective loss leader for the highly lucrative business of multiples (and more prosaic, living-room-friendly works of art).
At this point, the vast majority of Banksy's art is made explicitly for sale. In the past 10 years, according to Artnet, Banksy's art has gone to auction a staggering 1,293 times.
The art that goes to auction ranges from editions of 1,000 (which sell for a few hundred dollars), to single screenprints (sold for upwards of $190,000), to sculptures ($1.15 million for a Submerged Phone Booth). Paintings on canvas have accounted for the Banksy market's biggest sales to date: In 2008, an anonymous buyer paid $1.87 million for Keep It Spotless at Sotheby's New York.
The debate about whether it's kitsch or subversive, art or vandalism, and critique or commerce has continued since he first came on the scene almost 15 years ago. In a sense however, it's beside the point: The public still loves him.
Take the example of what happened when he stenciled a silhouette of a little boy swinging a mallet on the side of a Designer Shoe Warehouse on Manhattan's Upper West Side. Instead of painting over what was technically an illegal defacement of the wall, the owner of the building mounted a sheet of plexiglass over the stencil to protect it. Crowds formed around the stencil for weeks. Jerry Saltz, the art critic for New York magazine, trekked uptown with a video crew to discuss its artistic merits.
The auction at Bonhams was similarly enthusiastic. Of the 33 lots from Banksy up for sale, 31 sold, almost all above their high estimates. Below, the top 10 that sold with prices converted from pounds. 
1. Precision Bombing (2000), $60,776
 2. Rude Copper (2002), $49,381

 3. Laugh Now (2004), $30,388

4. Christ With Shopping Bags (2004), $34,186

5. Festival (2006), $30,388

6. Sale Ends (2006), $28,489

7. Flower Thrower (2003), $31,388

8. CND Soldiers (2005), $26,589

9. Bomb Middle England (2003) $29,438

10. Morons (White) (2007), $24,690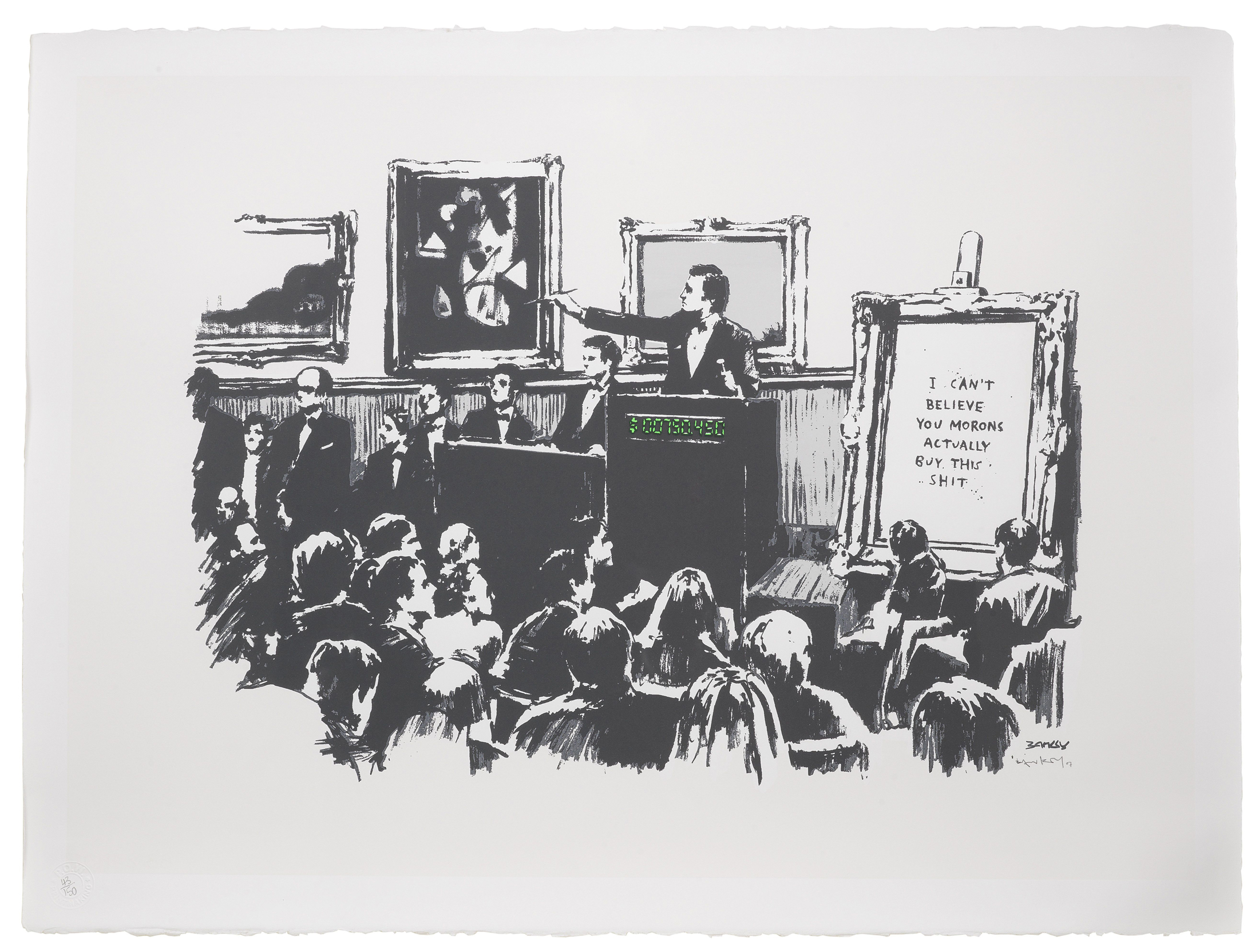 Before it's here, it's on the Bloomberg Terminal.
LEARN MORE