Macron's French Sunday Shopping Spat Eclipses Speedy Firings
Helene Fouquet and Mark Deen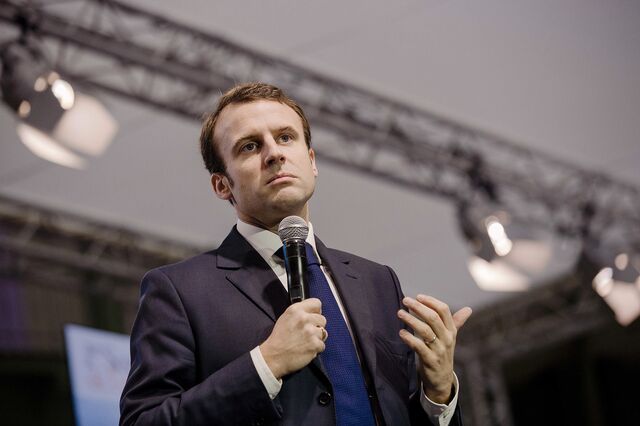 Finance Minister Emmanuel Macron may have created something of a trompe-l'oeil, or a smokescreen, with his new bill to rekindle the stagnant French economy.
That's what opponents of key parts of the bill are saying as a debate on allowing stores to remain open on Sundays is seen to have presented a cover for tougher measures with far-reaching consequences. With Macron presenting his New Year's greetings to the press today and the bill continuing to be debated in parliament, his efforts are drawing fire even from within the ruling Socialist Party.
"The devil is in the detail," said Socialist lawmaker Jean-Marc Germain, who has opposed many government bills. "This is a law of deregulation. Lawmakers have discovered some articles just in the last few days. This isn't a law so much as a series of measures the government's using to make changes that we don't support, like those on firings."
The comment shows the uphill task Macron and President Francois Hollande face as they try to jumpstart an economy that has barely grown in three years, driving joblessness to a record high. To many within Hollande's party, the measures mean breaks being given to businesses and a reduction in job security that has been a hallmark of the French labor market.
Take Article 34 in the 516-page bill, titled "Improving Financing." Couched in legalese is a tax cut for executives, who will be taxed only on half the value of any shares they are given as long as they hold them for two years.
Buried on page 112 are Articles 98 to 104 -- for "Improving Job Security." What the changes actually do is to remove the link between severance pay of a division being shut down and the profitability of the parent company.
'Economic Impact'
They also streamline job-cut plans when big companies eliminate fewer than 10 positions, and drop a requirement for companies to propose jobs to staff in foreign affiliates.
Such details illustrate Macron and Hollande's penchant for attacking the technical detail of France's economic problems while seeking to avoid pitched confrontations over infamous Socialist shibboleths such as the 35-hour work-week or the minimum wage.
"The Macron law is not about one preeminent change that overshadows everything else but numerous smaller points that taken together will have an economic impact," said Francois Cabau, an economist at Barclays in London.
With just over two years to go until the next election, Hollande is trying to step up his effort to overhaul the French economy, which has stagnated since he took office in May 2012.
Done Less
Macron, who was Hollande's chief economic adviser, became minister for economy and industry in late August.
Hollande came under the European Commission's fire in December when it called on France to step up efforts to reform its labor and tax systems to spur economic growth and create jobs. Macron said today that France needs to modernize its economy for its own good, and to increase its credibility in European economic policy making.
"We need to continue and accelerate reform in our country -- it's a responsibility we have to ourselves," he told journalists in Paris. "Look at our country over the past 15 years. Our country has done much less to unblock sectors than others. The spirit of the law that I'm presenting is precisely to open different areas of the economy."
Macron's bill has evolved over time.
Other Measures
A whole new section was added this month to the existing law project. The Article 64-Ter will make industrial espionage a criminal offense as the Socialist government says it wants to protect French industrial, intellectual and scientific assets and secure patents as major sources of revenue.
The French economy has stagnated as companies hold off investing and the government expects growth to accelerate to 1 percent this year from about 0.4 percent in 2014.
Macron's bill aims to take on any opportunity to find new sources of business and "be more attractive" for investments, it says on page 402.
Articles 62 and 63 will allow sports stadium owners to build giant billboards -- with pictures or videos -- on their outside walls. This could be a sizable source of revenue for operators as France is hosting the 2016 European soccer championship.
Improve Confidence
It will also be a bonanza for local governments, which will collect a tax on each ad. The biggest boards may go for more than 120,000 euros ($105,000) a week.
Corporate debt restructurings will become easier with the bill, which intends to speed up insolvency procedures by making it simpler for companies to negotiate with lenders.
Lawmakers at the National Assembly started debating and adding amendments this week. The bill will the go to the Senate and should be voted on by the end of February.
"This is effectively a renewal of France's reform momentum," Cabau said. "The law touches many different aspects of the economy and will provide structural changes that amount to real supply-side policy. If it gets through quickly and intact, it will be an important signal that can help improve confidence."
Before it's here, it's on the Bloomberg Terminal.
LEARN MORE