Kenya Turns to Assisted Breeding to Save Rhino Subspecies
Charles Wachira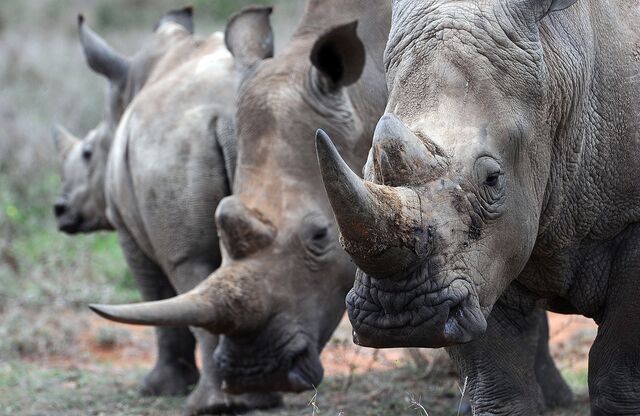 A Kenyan wildlife conservancy said it's considering using in-vitro fertilization to try and save the northern white rhino from extinction, after an attempt to get them to breed naturally failed.
There are only five of the animals, a subspecies of the more common white rhino, left in the world, all of them at the 90,000-acre Ol Pejeta Conservancy, about 217 kilometers (135 miles) north of the capital, Nairobi. The animals were moved to the park from zoos in the Czech Republic and the U.S. in 2009, Ol Pejeta said in an e-mail on Wednesday.
"We will partner with experts in the field of assisted reproduction across the globe and implement the strategy most likely to secure this ecotype," Ol Pejeta said. "The assisted reproductive strategy will come at a significant cost and might also pose a risk to the remaining animals, but the conservation precedent of losing northern white rhinos from the planet requires extraordinary measures."
The decision was taken after 44-year-old Angalifu, a male rhino, died in December, leaving the herd at three males and two females, with the two females unlikely to be able to breed naturally, the conservancy said.
Rhinos are targeted by poachers to feed demand for their horns in Asia, where they are used in ornamental carvings and traditional medicine, according to the African Wildlife Foundation.
There are about 20,000 white rhinos left in the world, the World Wide Fund for Nature said on its website. The beasts can weigh as much as 3.6 metric tons and live for as long as 40 years.
Before it's here, it's on the Bloomberg Terminal.
LEARN MORE