How Different Is Mike Pence's 'Just IN' Media Site From Obama's?
Both are really just press releases by a different name.
By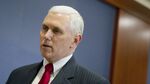 Indiana Governor Mike Pence announced Monday that his administration will unveil a new state-run media outfit, designed to compete with traditional news outlets and even supply them with staffer-written stories.
The Republican and possible 2016 candidate's announcement of the service, which will be called "Just IN," was met with vociferous criticism, in large part from members of the press.
Jack Ronald, a small newspaper publisher in Indiana, told the Indianapolis Star that "it's a ludicrous idea," adding, "the notion of elected officials presenting material that will inevitably have a pro-administration point of view is antithetical to the idea of an independent press." 
A columnist for the Star named Matthew Tully was even more emphatic. "A state-run news agency? What in the name of Vladimir Putin is the Pence administration thinking?" Tully wrote. "That ain't America, folks."
It's true that if Pence's site was the only one allowed to operate in the state of Indiana, this would be a flagrant miscarriage of First Amendment rights. And if Pence's own communications staffers were the only "media" allowed at his press conferences, that would be bad news, too. But Pence on Monday night wrote on Twitter that Just In will pretty much just be a new website for work produced by press secretaries working for state officials. 
Pence reiterated that point in a statement Tuesday, in effect confirming that his attempt to improve his administration's communication with the public was off to a horrible start.
Still, comparisons to Putin's Russia were amiss. A more accurate state leader template would be that of President Barack Obama, who has presided over a major expansion of how an administration delivers its message to the American people while circumventing traditional media channels.  
The White House blog, for instance, regularly publishes articles about the administration that are written by members of the communications staff. There are official GIF-packed Tumblrs and social-media optimized live video pages. Rather than relying on news outlets to publish the full text of his State of the Union address, Obama posted it on Medium, a site that allows anyone to publish whatever they want. There was also the supplemented version of the address itself, complete with sleek, social-ready presentation cards, on the blog. 
None of the aforementioned efforts was interpreted as an attempt to Putinize journalism, and indeed the White House's efforts attracted far smaller audiences than the news outlets covering the address on television and the Internet. More than likely, Pence's foray into media is destined to follow a similar path—though with fewer GIFs, hopefully—permanently playing second fiddle to the Fifth Estate.