How Different Is Mike Pence's 'Just IN' Media Site From Obama's?
Both are really just press releases by a different name.
By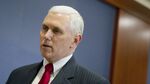 Indiana Governor Mike Pence announced Monday that his administration will unveil a new state-run media outfit, designed to compete with traditional news outlets and even supply them with staffer-written stories.