Greece Wants a Debt Break. What About Its Poorer Neighbors?
Bulgaria, Albania, and Macedonia want debt relief, too
By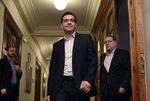 Alexis Tsipras's first official act as Greece's new prime minister was to lay a small bouquet of roses at the site of a World War II memorial. It marks the execution by firing squad of 200 mostly communist activists by Nazi soldiers.