Foreign Oil Habit No Burden on China as Suppliers Seen Lining Up
Bloomberg News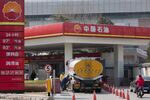 Competition among global crude suppliers will bolster China's bargaining power as it relies on imports more than ever, the nation's biggest oil and gas producer said.
Overseas purchases as a share of total crude requirements will surpass 60 percent this year for the first time from 59.5 percent in 2014, according to China National Petroleum Corp. Oil demand will expand by 3 percent to 534 million metric tons, or about 10.7 million barrels a day, the company's annual research report showed.
"China's rising import appetite will be boosted by the need to stockpile strategic and commercial oil this year," Gao Jian, an analyst at SCI International, a Shandong-based energy consultant, said by phone. "Yet with more diversified buying choices amid a glut market, China has less risks as its top suppliers compete with each other by offering cheaper prices to battle for market share."
China's crude imports climbed 9.5 percent to a record high last year as the collapse in global oil prices presented an opportunity to boost stockpiles. The nation's overseas purchases may increase by another 530,000 barrels a day this year as the government continues to fill strategic oil reserves, Amrita Sen, the chief oil-market analyst at Energy Aspects Ltd., a London-based consultant, said on Jan. 26.
"As oil producers' competition for market share deepens, China, as a main contributor to global oil demand, will become a sought-after target and its bargaining power will strengthen in the international market," CNPC said in its report.
Saudi Arabia
The Asian nation will account for about 11 percent of global oil demand in 2015, compared with 21 percent for the U.S., according to estimates from the Paris-based International Energy Agency.
Saudi Arabia was China's top crude supplier with a 16 percent share of the market in 2014, data from the General Administration of Customs showed. Angola retained second spot while Russia has outsold Oman each month since September.
Shipments from Colombia rose 156 percent last year to account for 3.3 percent of China's imports, while Iraqi supplies climbed 22 percent to make up a 9.3 percent share.
Saudi Arabia reduced some official selling prices for November crude sales to Asia to the lowest since 2008. December cargoes were sold at $75 a barrel, compared with the full-year average of $101.50, the customs data showed.
Crude Stockpiles
China is set to maintain its commercial hoard of more than 200 million barrels of crude within three years to bolster energy security, according to the National Development and Reform Commission. The nation had 141 million barrels of emergency oil-storage capacity at the end of last year, spread over six bases. Its capacity for commercial inventories was at 307 million barrels, CNPC said.
Net crude imports will rise 5.4 percent to 325 million tons in 2015, CNPC said. Refining capacity will climb 4 percent this year to 730 million tons, while throughput will gain 3.8 percent to 515 million tons, its report showed.
Fuel exports will probably increase with excess supply projected at 20.8 million tons, it predicted.
— With assistance by Jing Yang, and Sarah Chen
Before it's here, it's on the Bloomberg Terminal.
LEARN MORE