Everyone in the World Is Playing This Game Except the Chinese
TwoDots won over mobile gamers in 71 countries. Why can't it crack China without a middle man?
By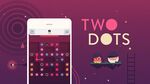 When the studio behind the hit smartphone game Dots began developing a sequel, the idea was to hook players with a mixture of satisfaction and frustration. TwoDots switches between being quite easy and rather difficult. "We'll make you feel confident and strong, and then we'll make it it hard again," says Paul Murphy, co-founder and chief executive of Playdots. The strategy worked: TwoDots became the top iPhone game in 71 countries, even better than the 23 countries where the original game reached the No. 1 slot.