technology
Everyone in the World Is Playing This Game Except the Chinese
TwoDots won over mobile gamers in 71 countries. Why can't it crack China without a middle man?
By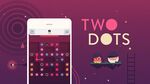 When the studio behind the hit smartphone game Dots began developing a sequel, the idea was to hook players with a mixture of satisfaction and frustration. TwoDots switches between being quite easy and rather difficult. "We'll make you feel confident and strong, and then we'll make it it hard again," says Paul Murphy, co-founder and chief executive of Playdots. The strategy worked: TwoDots became the top iPhone game in 71 countries, even better than the 23 countries where the original game reached the No. 1 slot. 
The game studio's initial hit was one of those archetypal digital success stories: A few guys in Manhattan's Meatpacking District make a game that reaches millions of people in countries they've never visited, winning over Greeks, Norwegians, and Poles without any particular cross-cultural strategy. There was only one major market where the app didn't find easy success: China. The world's most populous country accounted for fewer than 5 percent of Playdots's users. 
This isn't unusual for mobile gaming companies. Nowhere is more enticing than China, and nowhere is more difficult to figure out. The app market is spread over a vast multitude of digital stores, language barriers add to the confusion for outsiders, and distinct local tastes make it harder to engage Chinese audiences. (A similarly difficult dynamic exists for Xbox and Playstation developers, who are just now approaching China after a decadelong ban on consoles.) The number of mobile gamers in the country will reach 770 million by 2018, up from 420 million in 2014, according to market research firm Niko Partners. Mobile games sold in China brought in $2.9 billion in revenue last year, up 93 percent from the year before. So doing business in China is a must for any app maker aiming for global reach. 
For most of its short corporate life, Playdots has been gaming out how best to reach China's gamers. Murphy, who has made four trips to the country, has persuaded the Chinese Internet giant Tencent to lead a $10 million fundraising round and has started designing an alternate version of TwoDots to appeal specifically to local gamers. Playdots now plans to form a partnership with Tencent to launch the sequel game early this year. 
Murphy began eying China almost immediately after founding the company and was immediately struck by the complications involved. The U.S. has two dominant app stores: iTunes and Google Play. China, by contrast, has several hundred stores, and any serious developer has to be in at least the top 20. The individual app stores in China require tweaks to the coding of the game. Familiarity with the U.S. giants is all but useless in China, since Google isn't active in the country and Apple has traditionally been a bit player. 
There aren't even U.S.-style standard terms to the agreements between app retailers and developers. Many of the companies reaching out to Murphy were middlemen, offering to negotiate with the app stores individually—for a hefty fee. "It's a completely bespoke deal," he says. "And going direct is financially the best way to do it." 
The promise of extra revenue for trying to navigate China alone wasn't worth it in the end, and Playdots eventually struck a deal with Alibaba to publish its first game. Murphy was happy with the arrangement, but he saw it as an experiment that never became very lucrative. Playdots changed alliances for its second game. While all the Chinese Internet conglomerates are active in mobile gaming, Tencent dwarfs the competition. 
Before the renminbi can start rolling in with TwoDots, Playdots had to redesign the game itself. The major challenge was to make the early levels less challenging. Chinese smartphone users download far more games than Americans do and tend to stop playing anything that stumps them too quickly. The Chinese version of TwoDots will have a long, relaxing runup of easy levels before things get tricky. "I'm not trying to stereotype, but they don't want to have to be challenged too early on in a game," says Murphy. "They want to be able to zone out or coast through it." 
Like most successful smartphone games, TwoDots is free to download and makes money by selling virtual items to players. But the economy for free-to-play games is much different in China than in the U.S. Almost 40 percent of Chinese gamers buy virtual goods, according to Niko Partners, a far higher percentage than in Western markets. But most of them spend a fraction of what any American player would pay. As a result, TwoDots had to come up with smaller rewards it could sell for less money. 
It's not just that Chinese players are frugal, says Henry Fong, the chief executive of Yodo1, a Chinese publisher that works with foreign developers. "The unique thing about China is that the minnows, or the small players, they stretch much lower than the Western players," he says. "But the whales also stretch much higher." In other words, it serves game developers to come up with inexpensive rewards as well as those enticing enough to persuade players to spend hundreds of dollars on them. 
Yodo1 pitches itself to Western developers as an organization that can help decode the aesthetics and economics of Chinese gaming. It has more than 200 designers and developers who refocus games to make them more appealing to Chinese players, a process that can be as simple as adding a dragon here and a terra cotta warrior there. Some games need a substantial rethinking of the gameplay itself. 
This is a tricky balance to get right, and even games that attract players in China don't necessarily draw in much cash. "So far China isn't a large percent of our revenue, but we have more users in China than anywhere else in the world," says Misha Lyalin, chief executive of ZeptoLab, a Russian company that makes the popular game Cut the Rope. Lyalin says that after three years in the Chinese market, his company is finally figuring out how to make games Chinese players will pay for. ZeptoLab is currently working with Yodo1 to release a new game in time for the Chinese New Year.
While China is getting easier to figure out, Lyalin sees the local game market simultaneously becoming more crowded. Thousands of new games are published in China each year, and the amount of resources needed for marketing is rising. This same trend has already made it increasingly difficult for smaller developers in Western markets, and it's one of the key reasons why Playdots felt the need to get backing from a giant such as Tencent. Fong of Yodo1 says his company is becoming pickier about working with foreign developers, because it has to dedicate more time to preparing and promoting each game. Several years ago it was hungry to work with new studios. Now it reviews about 100 games a month and publishes, at most, one. 
Chinese companies know that Western game developers can't make it on their own. Lisa Hanson of Niko Partners says that the number of Chinese game publishers has more than doubled over the past year. One publisher, iDreamSky, went public in August; another publisher, Chukong, debated doing so before abandoning the idea. While some analysts expect to see these companies consolidate in the near future, the survivors will be in a powerful position, says Joost van Dreunen of the gaming research firm SuperData. "They're sitting on what is, to publishers in America and Europe, a tremendously important market," he says. "They could just put up a toll booth." 
Before it's here, it's on the Bloomberg Terminal.
LEARN MORE