Does It Help or Hinder? Central Banks Split on Oil Slump Fallout
Michael Heath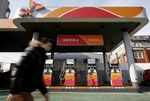 Central banks globally aren't seeing the growth and inflation implications of cheaper oil the same way.
Japan and South Korea say the weaker short-term price growth will give way to stronger demand as consumers spend the windfall, moderating the risk of deflation. China also expects a boost to employment and growth.
Singapore, on the other hand, became at least the ninth economy to ease policy this month as global price pressures evaporate. It follows the European Central Bank's announced plans for quantitative easing while Canada, Denmark and India cut interest rates.
Here's how the central banks line up on the implications of the 50 percent drop in oil prices over the past 12 months:
People's Bank of China
A lower oil price will boost economic growth and job creation in the world's second-largest economy, central bank Governor Zhou Xiaochuan said on a panel in Davos, Switzerland last week. One downside, it may also become a disincentive for new investment in non-fossil energy, he said.
Bank of Japan
A stronger economy from cheaper oil will fuel inflation over the longer term, Governor Haruhiko Kuroda said in an interview with Bloomberg Television last week in Davos. Inflation will start to accelerate in the latter half of fiscal 2015 even if oil prices don't rise much, he said, adding that a 2 percent inflation rate would be achieved.
Bank of Korea
Governor Lee Ju Yeol last week said the likelihood of deflation in South Korea is limited as cheap oil will spur economic growth.
Monetary Authority of Singapore
Singapore's central bank unexpectedly eased policy Wednesday and also cut the inflation forecast for 2015, predicting prices may fall as much as 0.5 percent. The Monetary Authority of Singapore uses the currency as its main policy tool.
"The fall in global oil prices resulted in overall import prices declining by an average of 6.5 percent year on year in October-November 2014, the steepest correction since the third quarter of 2009," MAS said in a statement.
Reserve Bank of India
Governor Raghuram Rajan lowered the repurchase rate to 7.75 percent from 8 percent this month, saying a slowdown in inflation offered scope to buttress the economy. India imports about 80 percent of its oil.
Bank of Canada
Canada's central bank cut its benchmark interest rate by a quarter point to 0.75 percent, an unexpected move it said would buffer the Group of Seven's largest oil exporter from the plunge in crude.
Federal Reserve
U.S. policy makers meet today to gauge the economic outlook as a narrow majority of economists surveyed by Bloomberg News predict Fed officials will look past low inflation and stay focused on raising interest rates around mid-year. Oil prices have fallen about 20 percent since Fed officials last met Dec. 17, and economists are marking up their estimates for growth this year as lower gasoline prices leave households with more money to spend on other things.
European Central Bank
Governor Mario Draghi said in a Jan. 22 news conference that inflation dynamics "continued to be weaker than expected," and while the drop in oil prices is the dominant factor driving headline inflation, "the potential for second-round effects on wage and price-setting has increased and could adversely affect medium-term price developments."
Draghi presented his quantitative-easing program on the same day in Frankfurt.
Denmark National Bank
Later that day, Denmark's central bank cut its certificate of deposit rate to minus 0.35 percent from minus 0.2 percent.
Norges Bank
Norway's central bank in December delivered a surprise rate cut, triggered by plunging crude prices, along with a warning of a 50-50 chance of another cut this year. Brent crude will need to trade above $70 a barrel before pressure on monetary policy abates, Governor Oeystein Olsen said in a December interview.
Unlike large swaths of Europe, Norway isn't battling deflation. Underlying consumer prices gained 2.4 percent in December, close to the bank's 2.5 percent target.
The Last Word
"The dominant macro theme in 2015 will be central banks' battle against lowflation – excessively low inflation that has become pervasive, persistent and pernicious," Morgan Stanley analysts Hozefa Topiwalla and Aarti Shah said in a research report. "We think central banks will pick up the gauntlet and fight back with more monetary accommodation that will keep interest rates low and global liquidity ample throughout 2015."
Before it's here, it's on the Bloomberg Terminal.
LEARN MORE