Do Mitt Romney's Expensive Things Define Him?
Aside from the infamous car elevator, Romney also has a few multimillion dollar homes, but he also has a long history of charity and frugality.
By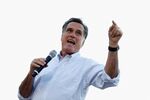 When the Boston Globe reported on Monday that Mitt Romney might be selling his La Jolla, Calif., mansion—the one with the famed car elevator that made him look so out-of-touch in 2012—much of the reaction focused on the home's amenities. Politico talked about its square footage, ocean view, and outdoor shower. CBS noted that the Romneys paid $12 million for the property in 2008 and built a newer, bigger house on it that angered neighbors with its size.