Defaults on Oil Loans Loom Over Whistler Ski Trip: Canada Credit
Cecile Gutscher and Rebecca Penty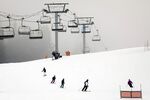 A specter of rising defaults marred the view of pristine peaks as Canadian energy executives gathered at the Whistler ski resort.
Penn West Petroleum Ltd. and Baytex Energy Corp. told attendees at the annual conference last week hosted by Canadian Imperial Bank of Commerce that they may need to appeal to creditors to forgo debt terms. Two smaller explorers, Laricina Energy Ltd. and Southern Pacific Resource Corp., announced earlier this month they were in default. The oil slump that's knocked more than 50 percent off the price of crude is raising doubts that producers can meet payments on as much as $14 billion of junk-rated debt.
"Banks are being inundated with requests from companies to modify bank facilities," Mark Pibl, head of high-yield strategy at Canaccord Genuity Inc., said by phone from New York Tuesday. "Their exposure to the energy sector is being scrutinized so they can't be as accommodative as in the past."
Bank of Montreal has stress-tested its energy loans to $35 a barrel for North American crude for this year, and at $50 a barrel for next year. Goldman Sachs Group Inc. said this month that U.S. crude prices will drop to $39 a barrel, holding there for the first half of the year.
Restructuring Talks
Penn West, which is focused on the Cardium formation in Alberta, is seeking relief from lenders to meet conditions of about C$2 billion ($1.6 billion) in private bonds and C$1.7 billion bank credit this year, Dave Roberts, chief executive officer, told investors Jan. 22 at the conference. Earlier that day at the event at Whistler, North America's largest ski resort, Baytex's CEO told attendees he'd be renegotiating terms on a C$1.2 billion line if prices remain depressed.
As they approach lenders to renegotiate, oil producers are losing access to the bond market. The average price of U.S. dollar-denominated junk bonds from energy companies, 7 percent of which are Canadian, has fallen to 86 cents on the dollar, compared with 106 cents in June, Bank of America Merrill Lynch data show. Borrowing costs have climbed to 9.6 percent from 5 percent since then.
Laricina, a startup oil-sands developer, said this month it violated a bond covenant based on its production levels. Southern Pacific missed a C$5 million interest payment on its convertible debt Dec. 31. It was granted protection from creditors this month under Canada's Companies' Creditors Arrangement Action to pursue options that include restructuring debt and selling assets.
Credit Outlook
Paresh Chari, a Toronto-based analyst at Moody's Canada Inc., expects at least C$3 billion of loans to speculative-grade energy companies in Alberta to need relief in coming months. That includes Lightstream Resources Ltd., Korea National Oil Corp.-owned Harvest Operations Corp. and Baytex. Moody's said Jan. 26 it expects Baytex's talks with lenders on relief "will be successful" and reduced its outlook on Baytex's debt to stable from positive.
It could take two more quarters for the companies to fail quarterly covenant tests because they are based on a 12-month rolling average where the price swoon is offset by higher past levels, said James Jung, an analyst at DBRS Ltd. in Toronto who assigns ratings to oil firms. The price of Brent, the benchmark used by most of the world, has averaged $95.27 over the past year -- well above the current price of $46.09 a barrel.
Seeking Relief
"We need to be talking to folks about relief throughout the year," Penn West's Roberts said, noting that the company's bonds and bank line require that its debt can't exceed three times the value of its earnings before interest, taxes, depreciation and amortization over the prior 12 months. "I expect them to want to work with us."
Lightstream is half drawn on its credit facility and expects lenders will work with the company to renegotiate terms, Peter Scott, Lightstream's chief financial officer, said Tuesday in a phone interview.
"If you look at past cycles and if you look at what's happened with the natural-gas market in the recent downturn there, by and large the banking industry is looking to work with the E&P companies through those cycles," Scott said, referring to exploration and production companies.
Representatives for Penn West and Baytex declined to comment further, while a request for comment from Harvest wasn't returned.
Lenders will probably work with companies to renegotiate debt terms, because the price crash is beyond their control, said Gordon Tait, an analyst at BMO Capital Markets in Calgary.
'External Event'
"Given it's an external event, a sharp decline in commodity prices, it's different from a company that had really mismanaged their operations or drilled hundreds of dry holes," Tait said. "I don't think it's the objective of these banks to own or operate oil and gas properties."
If negotiations don't lead to new terms, creditors may tighten the purse strings, make debt more expensive, or force producers to sell assets to come into line.
Penn West may try to sell oil-producing assets if that's required by bondholders, Roberts said at the conference. If the company gets the relief it's seeking, it will continue to advance drilling programs as planned, he said. The company's bank line is undrawn, he said.
Baytex is counting on lenders to give it a break. The Calgary-based oil and natural-gas producer has already drawn C$700 million of its C$1.2 billion credit line, chief executive officer James Bowzer said. The loan was signed in June by lenders led by Bank of Nova Scotia, according to data compiled by Bloomberg.
"With the kind of history we've got with the banks, with the kind of programs we have going forward, what I believe is a relatively small window of oil price recovery to stability, I would hope they would work with us," Bowzer said.
Before it's here, it's on the Bloomberg Terminal.
LEARN MORE