CPPIB's Wiseman Carrying a Big Wallet to the Oil Patch
Scott Deveau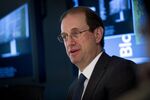 Mark Wiseman, who runs Canada's biggest pension fund, offered the Davos crowd last week a two-pronged argument on why he's bullish on energy assets after the recent plunge in oil prices.
"Part one, the world is consuming about 90 million barrels a day," said Wiseman, chief executive officer of the Canada Pension Plan Investment Board. "Part two, God isn't making any more."
Wiseman said that simple supply and demand perspective all but guarantees oil prices will be higher 10 years down the road, offering investment opportunities now for the C$234 billion ($188 billion) fund.
"I'll take that bet" on oil's rebound, he said in an interview Tuesday at Bloomberg's Toronto office.
Oil slid almost 50 percent last year as U.S. shale production surged while the Organization of Petroleum Exporting Countries resisted calls to cut supply. That's had a dramatic impact on the value of oil companies around the world as prices fell to a five-year low at about $45 a barrel.
This has Toronto-based Canada Pension looking at a range of investments -- from buying equity and partnering on acquisitions to outright takeovers, Wiseman said.
"We see a lot of value in the Western Canadian basin," he said, noting that oil sands projects are on his radar.
Canada Pension tends to be conservative on leverage and has the ability to recapitlize companies that have good underlying assets and poor balance sheets, he said.
"Just because a company is highly-levered doesn't mean the underlying assets aren't good," he said. "We like companies that have good underlying assets and bad balance sheets. That's the perfect scenario for us."
Calgary, Houston
Canada Pension representatives are already active in the sector and have been holding meetings in Calgary and Houston in recent weeks, he said. Late last year, the pension fund manager was said to be weighing a bid for Talisman Energy Inc. before the Calgary-based producer was bought by Spain's Repsol SA for $13 billion, people familiar with the matter said.
Wiseman wouldn't comment on Talisman. He said there's a lot of flexibility in the sort of investment Canada Pension could make, noting a C$5 billion asset would only make up about 2 percent of its portfolio. He also said Canada Pension won't shy away from major acquisitions if it sees value, pointing to its failed attempt with a group of investors in 2007 to acquire BCE Inc., the parent of Bell Canada, for roughly C$45 billion.
"I don't think we'd go buy Exxon, but we might buy a piece of Exxon if it were for sale," Wiseman said, referring to Irving, Texas-based Exxon Mobil Corp. "Our scale is a really big advantage for us as well as the long-term nature of the organization."
Wiseman, 44, who just returned from the World Economic Forum in Davos, Switzerland, said the volatility in global markets creates opportunities too. He also joked that the interest rate cut in Canada that sent the loonie lower, combined with Switzerland's move to scrap its currency cap boosted the cost of the Coca-Cola in his mini-bar by about 40 percent.
Two-Speed World
The past few years have been difficult for long-term investors with easy access to credit and consistent monetary policies around the globe leading to fairly priced assets.
"I think we are moving in to a two-speed world, and that's why we're starting to see all kinds of volatility in markets including interest rates and currencies," he said.
The world is divided between North America and China, which are seeing substantial growth, and continued softness in Europe and Japan, he said.
Canada Pension's competitive advantage on scale, liquidity, long-term investment horizons and an ability to react quickly are all more valuable in periods of dislocation, he said.
"Other people's short-term problems, we're happy to solve them," he said.
Outside Canada
About 70 percent of Canada Pension's assets are outside Canada, and Wiseman said he expects that figure to grow as the pension fund continues to diversify globally. Assets in Canada generally lack the size needed to invest, he said.
He encouraged the Canadian federal and provincial governments to look to jurisdictions like Australia, where state governments are given incentives to invest in infrastructure and court outside funding. In the meantime, Canada Pension is looking to places like China, India and Brazil.
"Given the size of the Canadian economy relative to the global economy, we're not going to be able to find the same sort of risk-adjusted returns here that we can find globally," he said. "We will attach more and more of the portfolio on a relative basis to those markets where we're going to find global growth."
Before it's here, it's on the Bloomberg Terminal.
LEARN MORE