College Admissions Racket: They're Not Going to Let You In Anyway
Elite colleges are suddenly extending their application deadlines, but some say they're juicing their numbers and giving students false hope
By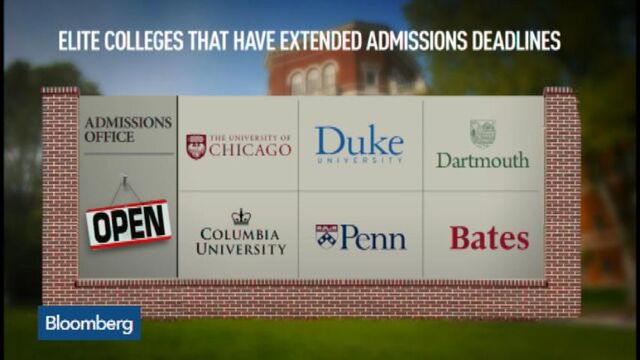 After losing interest in attending the University of Chicago, high school senior Sarah Schmoller didn't bother to apply before the Jan. 1 deadline. The university, though, wouldn't take no for an answer. Over winter break, the school offered to extend the deadline to Jan. 5 so that Schmoller could "sleep in, and eat cookie after delicious cookie" and "take these extra days to relax a bit." When she didn't respond, an e-mail signed by admissions director Daniel Follmer popped up in her inbox on Jan. 7, giving her two more days. "We're Missing Your Application," the subject line read.
This year, at least a dozen elite colleges, including Chicago, Duke, Dartmouth, and Columbia, have offered extensions of once-sacrosanct January admissions deadlines. The University of Pennsylvania, Vanderbilt, and Bates are among schools whose admissions deans said they were doing so for the first time, aside from individual hardship cases or such emergencies as storms and major website failures.
Colleges that extend deadlines say they are merely trying to give more students a chance to apply and receive scholarships. Yet students and even some colleges are asking whether the extra days are penalizing on-time applicants. The extensions—several of which lasted until last week—are bewildering teenagers and high school guidance counselors.
These universities are hardly hurting for customers. More than 30,000 hopefuls are applying to Chicago this year. In the last go-round, the school rejected 92 percent—the most ever—making it one of the most selective schools in the U.S. Advisers and high school seniors say they suspect schools are just burnishing reputations for selectivity. More applications mean more rejections, which heightens a college's prestige in the world of higher education. 
"I felt like they were messing with me, and it didn't matter to them," said Schmoller, 17, who attends Minnetonka High School near Minneapolis. "It felt a little like I was being duped, or I couldn't tell if they actually wanted me there." Colleges also boost applications by deluging students with brochures and book-length "viewbooks" featuring attractive students and famous alumni. Further tactics have included waiving application fees, making essays optional, and counting incomplete entries in application statistics. Colleges track down kids after buying names of students after they take SAT or ACT college entrance exams. Taking the bait isn't cheap: Colleges typically charge from $50 to $75 to apply.
A survey last year of 1,500 university deans and high school counselors by the National Association for College Admission Counseling reported concern about a shift toward a "sales culture in college admission." Non-emergency deadline extensions are the latest example, according to David Hawkins, the trade group's executive director for policy.
"We have institutions constantly tugging at the bounds of what people consider acceptable practice," Hawkins said. Chicago extended its deadline because it wanted seniors to know about two new financial aid initiatives, according to spokesman Jeremy Manier. "Our admissions office got extensive positive feedback from students, through social media and direct e-mail," Manier said of the extensions.
Schmoller also received two extension offers from Duke University in Durham, N.C., after its Jan. 1 deadline. Columbia University in New York and the University of Pennsylvania in Philadelphia sent her one apiece. On Jan. 9, Duke wrote to extend its deadline for an additional day. "Duke's academic opportunities are limitless, but our application deadline isn't," the e-mail read. Schmoller didn't apply to Duke and Columbia, but she did take advantage of the extra time to seek admission to Penn. In all, she applied to six colleges. She scored in the top 1 percent on the ACT college entrance exam, tutors low-income third-graders, and has played piano since age 5.
Eric Furda, Penn's dean of admission, said it was the school's first non-emergency extension during his tenure. Any "marginal increase in applications" would "not appreciably (if at all) impact selectivity," he said in an e-mail. Duke extends its deadline "when we get a sense from students who have already started their applications that a little extra time would be beneficial," Christoph Guttentag, dean of admissions, said in an e-mail. For several years, Columbia has sent e-mails a day after the deadline, giving applicants who have started online applications a chance to complete them, according to Jessica Marinaccio, dean of admissions and financial aid. In a statement, she called it a "courtesy to students who may have encountered technical or other difficulties."
Many schools, such as Vanderbilt University in Nashville, Tenn., said they extended deadlines last year because of technical glitches with the Common Application, the online system students use to apply to many selective colleges. In case of similar problems this year, Vanderbilt e-mailed students early in the morning on Jan. 2, informing them that the school could accept applications until Jan. 5, according to Doug Christiansen, dean of admissions and financial aid. He said he doesn't expect to do so again.
"This was not an attempt to create more applications," Christiansen said. "We have 31,000. We have enough. It was meant as a service." The vast majority of the more than 5,000 U.S. colleges accept almost all their applicants, while at elite universities, rejection rates have soared. Stanford University, near Palo Alto, Calif., accepted only 5 percent of its applicants last year. Stanford didn't extend its deadline; nor did Harvard University or the Massachusetts Institute of Technology, both in Cambridge, Mass., and Princeton University in Princeton, N.J., school officials said. Yale offered four-day extensions and fee waivers to fewer than 50 students who had started filling out applications and would be the first members of their families to attend college, according to Jeremiah Quinlan, dean of undergraduate admissions.
Katie Fretwell, dean of admission and financial at Amherst College in Massachusetts, said Amherst grants extensions only to individual students for medical emergencies or family crises. "We don't want to reward procrastinators," Fretwell said. "There's a lesson here about what kind of competition exists and how you need to position yourself. Meeting a deadline is one of the first things." Colleges often have their eyes on rankings, especially U.S. News & World Report's Best Colleges list, which reaches its conclusions based on reputation, selectivity, financial resources, and other measures.
Deadline extensions create a larger applicant pool, which may help colleges more than students, according to Bob Morse, chief data strategist at U.S. News. "It's another way the schools are definitely changing the rules of the game," Morse said. He notes that the acceptance rate accounts for only 1.25 percent of his ratings. "It's an opportunity to increase applications if they're running behind," said Bob Sweeney, who is retiring this year after nearly three decades as a counselor at Mamaroneck High School in suburban New York. "Lowering that acceptance rate seems to be a high priority. It kind of sounds like a sale has been extended."
Even students with B averages and low standardized test scores are getting asked "please, please and two exclamation marks," said Phil Trout, Schmoller's guidance counselor. The constant stream of solicitations and extensions seem like personal appeals, rather than mass mailings, he said. "We just scratch our heads and wonder how could this possibly be," said Trout, who has been advising students for 31 years. "There are kids and families who fall for it. It is sad. They're not doing this to serve students." 
Using extensions to get applications, colleges are getting creative. Washington University in St. Louis sent seniors a poem as it extended its Jan. 15 deadline:
Twas the day AFTER the deadline and students did ask
If they could have the weekend to finish their task.
Then what with their wondering eyes they did see?
'Twas a Common App extension 'til January Twenty.
Washington University gave more time because of some technical glitches, as well as to "lower the stress level among high school students," according to spokeswoman Susan McGinn. The school has had a grace period for several years, but was more "proactive about getting the word out this year," she said.
Few were more persistent than Bates College, a liberal arts institution in Lewiston, Me. Senior James Spizzirro received an e-mail offering an "exclusive extension" from Bates a day after its Jan. 1 deadline had passed. "We have decided to provide this extension to especially promising candidates because we know that the holiday season can be a very busy time," wrote Leigh Weisenburger, dean of admission and financial aid.
Three days later, Spizzirro received a second note. The subject line: "James, today is your final deadline."
"P.S. I am interested in seeing your application for many reasons—and one of those reasons is that you could be an excellent addition to our community-minded and intellectually curious student body," Weisenburger wrote. Spizzirro, 17, who lives in the New York suburb of Larchmont, said he has received almost 35 e-mails from the school since October.
"I did find it a little bit creepy," he said. "I can admire their persistence, but after a while, it just got a little bit annoying."
Spizzirro, who attends Fordham Preparatory School in New York City, rejected Bates's advances. He is applying to 11 schools, including Dartmouth College, which also extended its admissions deadline. Dartmouth, in Hanover, N.H., said the number of applications it received during the extra time was "very small."
Bates said it received 148 applications during the deadline extension, almost 3 percent of the 5,621 applications this year for about 500 spots. The college said students can opt out of e-mails. Weisenburger said the school offered extra time because the admissions office was closed on Jan. 2, and she wanted students to be able to call for help when it reopened on Jan. 5, in case technical problems had cropped up.
"By no means was it a sales pitch," she said.