Ben Carson on His Old, Less Conservative Views: 'Things Change'
The Ben Carson movement is willing to forgive its hero plenty.
By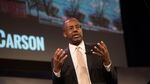 The surge of "credible" Republican presidential candidates has robbed Ben Carson of some headlines. That's a temporary situation; at least one national magazine and national newspaper sent reporters to the Iowa Freedom Summit to build out major profiles of Carson, an icon of recent black history who's still transitioning into political life. And the low profile might be good for Carson, who's been called out for some past diversions from conservative dogma—and received no blowback from his growing grassroots base.