At Odds With Sandoval, Nevada Attorney General Joins Immigration Suit
The state's rising-star governor just got outflanked.
By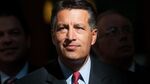 Nevada's rising-star governor just got outflanked by the state's new attorney general.
Adam Laxalt was sworn in as the state's chief law enforcement officer only a few weeks ago, but he has already joined the multi-state lawsuit against President Barack Obama's executive actions on immigration without a thumbs-up from Governor Brian Sandoval, a fellow Republican who may well have national ambitions in 2016.
On Monday, Laxalt's office announced the state would join the suit, which was initiated by Texas Governor Greg Abbott when he was attorney general and now includes 26 states. Laxalt said in a statement that Obama's November actions limiting some deportations of immigrants who live in the U.S. without authorization undermines "the rule of law that injures millions of people in America, including many in Nevada." The suit challenges the constitutionality of those actions.
Sandoval disagreed that was the right course of action, however. A spokesman told the Las Vegas Sun that while the governor thinks the immigration system needs fixing, it should be done through legislation rather than a lawsuit.
Aides to Sandoval and Laxalt discussed the issue, but Laxalt joined the suit without talking to Sandoval directly or getting his approval, according to an article in the Reno Gazette-Journal. The story also notes that Laxalt had campaigned on a promise to join the suit.
Sandoval has been attracted a lot of attention in the Republican Party, with Nevada's junior senator, Republican Dean Heller, urging him challenge the state's other senator, Democratic Leader Harry Reid, in 2016, according to Politico. Sandoval, who was the youngest chairman of the Nevada Gaming Commission and became attorney general himself in 2002, has also been mentioned as a potential vice presidential candidate. Sandoval, who was the state's first Hispanic federal judge, was elected governor in 2010. 
According to Pew Research Center, 10 percent of Nevada's workforce consists of unauthorized immigrants, the highest share of any state.