Marissa Mayer Gives Activists Part of What They Want With Alibaba Spinoff
Beth Jinks and Brian Womack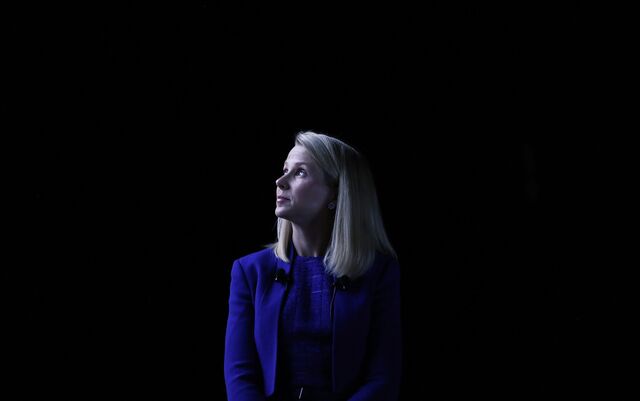 Marissa Mayer just gave Yahoo! Inc.'s investors some of what they've been asking for. That doesn't mean her battle with activist shareholder Starboard Value's Jeff Smith is over.
Faced with demands that the company spin its $40 billion stake in Alibaba Group Holding Ltd. into the hands of shareholders, Yahoo said Tuesday it would indeed do so. Yahoo is keeping its $7 billion stake in Yahoo Japan Corp. -- for now -- and will continue to operate its core business. The Asia assets combined are worth more than Yahoo's $45 billion market value.
Smith had agitated for a lot more, including spinning off Yahoo Japan in a similar way. Next on his list was an overhaul of Yahoo's core Internet advertising and search business, with a final step being the merger of Yahoo with AOL Inc. or a similar rival. Smith's Starboard owns about 0.82 percent of Yahoo and about 2.4 percent of AOL -- positioning the New York-based firm to benefit further from a combination of the Web portals.
"I'd like to thank you -- our shareholders -- for your patience and suggestions as we carefully analyzed the best path forward for Yahoo. I'd like to thank you for investing in us and believing in us," Mayer said today in a carefully scripted webcast. "It makes us both really happy to be able to deliver this plan today."
'Open Minded'
Maximizing Alibaba's value was "a priority," Mayer said, while the company continues to "explore ways to maximize the value" of the much smaller Yahoo Japan, she added. The point was reiterated by Chief Financial Officer Ken Goldman, who said "we remain open minded about evaluating alternatives for value creation" at Yahoo Japan.
Yahoo isn't entertaining the idea of a merger with AOL and isn't likely to, said two people with knowledge of the matter, who asked not to be identified discussing internal deliberations.
Representatives for Starboard didn't immediately respond to requests for comment on Yahoo's plans.
Yahoo -- which had previously tussled with activist Dan Loeb's Third Point LLC -- has a lot of company among big technology companies getting pushed around by outspoken investors. EBay Inc. ultimately capitulated to Carl Icahn's demands for a breakup and Apple Inc. boosted its buybacks and dividends amid criticism from the billionaire. Microsoft Corp. gave ValueAct Capital Management LP a board seat and Hewlett-Packard Co. earlier gave Relational Investors its chairmanship.
More Firepower
The activists have more firepower behind them too, thanks to some high profile success in recent years. Funds managed by activists jumped $26 billion last year to $119.23 billion, and have tripled over five years, data from Chicago-based Hedge Fund Research Inc. show. Over the past three years, the number of "active" investors has jumped 25 percent, and they have targeted 21 percent more companies, according to Pennsylvania-based Hedge Fund Solutions.
Yahoo can't sell its Alibaba shares until September, the one-year anniversary of the Chinese e-commerce company's U.S. initial public offering. It said today the spin will happen in the fourth quarter.
The 384 million Alibaba shares -- a 15.4 percent stake -- are worth about $40 billion, while Yahoo's 35.5 percent stake in Yahoo Japan is valued at about $7 billion, Mayer said today. That means investors buying Yahoo's stock today get to own the core U.S. business for free and aren't giving the company credit for its roughly $7 billion of net cash.
Biggest Target
Yahoo is by far Starboard's largest targeted company. Founded in March 2011, the firm usually targets small-cap companies in an activist strategy developed by Smith and Mark Mitchell since 2002 and Peter Feld since 2005 -- buying stakes in companies they call undervalued and pushing executives and directors for changes such as unit spinoffs and asset sales.
Starboard also targets a wide variety of industries. The activist chalked up a big win this week when Rock-Tenn Co. agreed to acquire U.S. rival MeadWestvaco Corp. in a $9.2 billion deal -- which came seven months after Starboard targeted MeadWestvaco for changes including its already announced plan to spin off its specialty-chemicals unit.
In another headline-grabbing activist campaign last year, Starboard persuaded investors to replace Darden Restaurants Inc.'s entire 12-director board after the unpopular sale of its Red Lobster chain to Golden Gate Capital.
Management Talks
Starboard has said it held talks with Yahoo directors and management -- including Mayer in October. Earlier this month CEO Smith wrote another public letter to Mayer expressing concern -- and cautioning against -- rumors Yahoo may pursue other acquisitions or a cash-rich split of its Asia assets.
Starboard previously ran an activist campaign at AOL. The hedge fund lost a proxy fight in June 2012, when CEO Tim Armstrong persuaded shareholders to reject the activist's three director nominees and support the company's slate. It still made a lot of money.
AOL's stock gained 79 percent from Starboard's original letter through June 13, the day before AOL said shareholders backed the existing directors. Starboard owned more than 5 percent.
Before it's here, it's on the Bloomberg Terminal.
LEARN MORE