Woods Brings Full Set of Teeth to Phoenix in Competition Return
Michael Buteau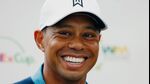 Tiger Woods was all smiles as he returned to the golf course yesterday in Arizona.
Following an early morning, nine-hole practice round at the TPC Scottsdale course, home of this week's U.S. PGA Tour event, Woods showed off a full set of teeth a week after losing one while attending girlfriend Lindsey Vonn's record-setting World Cup ski victory in Italy.
"That didn't feel very good," Woods told reporters after Tuesday's round. "The flight home was a joke. I couldn't eat, I couldn't drink. Even breathing hurt because the nerve was exposed. I couldn't have air touch it."
This week is Woods's first tournament since the 18-player World Challenge event four weeks ago and his first full-field event since missing the 36-hole cut at the PGA Championship in August. The 14-time major winner typically begins his season at next week's tournament in Torrey Pines, California.
Since the PGA, Woods, 39, has undergone back surgery, hired swing instructor Chris Como, battled the flu and visited his dentist.
In Phoenix, Woods reiterated his explanation that his tooth was knocked out by a photographer's camera in Italy.
"Luckily, he hit the one with the root canal," Woods said.
Race officials disputed Woods's claim and said there was no report of an incident involving the golfer, who wore a ski mask over his face while supporting Vonn.
"I was trying to blend in," Woods said of the mask, which had a white skull on it. "There aren't a lot of brown dudes at the ski races."
No. 2
With 79 career PGA Tour wins, Woods ranks second to Sam Snead and is coming off his worst season as a professional. He played in nine tournaments worldwide, failed to finish better than 25th in a full-field event and missed four months because of the back procedure.
In his career, Woods has won the first event of his season seven times, most recently at the 2013 Farmers Insurance Open in Torrey Pines. His 2015 debut comes at an event known for its raucous atmosphere.
Woods last played in the Arizona event in 2001, tying for fifth place. In his 1997 rookie season, Woods made a hole-in-one at the TPC Scottsdale course's par-3 16th hole, prompting a stream of beer-filled cups to be launched as he repeatedly thrust his right hand in the air.
"Old school, back in the day, raise the roof," Woods said of his post-shot celebration. "That was the thing then. To turn around and see all of this beer flying was crazy. The guys who were playing behind me had some pretty wet lies."
'The Coliseum'
The hole is now known as The Coliseum with stadium-style seating that includes 200 luxury boxes and 5,000 general admission seats. Fans will chant or sing to some golfers and loudly cheer for good tee shots and jeer those that miss the green.
The PGA Tour this year has banned players from tossing items into the crowd, citing safety concerns and liability. In recent years, Phil Mickelson has flung footballs into the stands, while Roberto Castro threw cigars last year. Ryan Palmer handed out $100 to fans last year and told them to buy a beer on him.
In his most recent appearance, a fan threw an orange onto the green while Woods was putting. In 1999, a spectator who had heckled Woods was wrestled to the ground by security. He was arrested when a handgun was found in his backpack.
"That's one of the reasons I haven't played here in a while," Woods said. "It's great to be back. It's been a long time."
Rolling Orange
The best of his three appearances in Arizona came in 1999, when he finished third. That year, a group of about a dozen fans moved a large boulder on the 13th hole to clear a lane for Woods's second shot.
This year, Woods hopes to end his trip to Arizona with a visit to the National Football League's Super Bowl on Feb. 1 between the Seattle Seahawks and New England Patriots. The game will be played nearby in Glendale.
"That's the plan," Woods said. "I just wish that my (Oakland) Raiders were there."
Before it's here, it's on the Bloomberg Terminal.
LEARN MORE