What Changes in 2016 Polls When Voters Supply the Names
Voters become more undecided when they can only vote for the candidates they remember.
By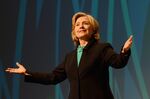 The good news for presidential candidates is that ballots aren't open-ended, meaning voters only have to pick your name out of a list. But a recent USA Today/Suffolk University poll showed that many Democrats and a plurality of Republicans are much more undecided when a pollster doesn't suggest candidates for them. 
When asked to choose their party's nominee for the next presidential election, 45 percent of Republicans and 31 percent of Democrats said they were "undecided." To put that in perspective, since December, the highest undecided rate in a poll for either party was 18 percent, in a McClatchy-Marist poll on GOP candidates (sans Mitt Romney) from early last month. Even then, that dropped to 13 percent when Romney was added as an option. 
"The fact is that people are recalling the names they're most familiar with," David Paleologos, director of Suffolk's Political Research Center told USA Today. "So it has its limitations."
One limitation might be that people don't always know who is considering running—Governor Scott Walker, who is considering running, and former Secretary of State Condeleeza Rice, who is not, both received 1 percent of the vote on the Republican side. At the same time, if voters can't recall someone's name, that says something about how much work it will take to win over those votes. 
Beyond the number of undecided voters, however, the poll results look familiar. On the Republican side, Romney, Jeb Bush and Ben Carson lead with 16 percent, 13 percent and 6 percent, respectively. On the left, Hillary Clinton has 51 percent of the vote (and 57 percent of the liberal vote), with Senator Elizabeth Warren and Vice President Joe Biden distantly trailing at 5 percent and 4 percent, respectively. 
The USA/Suffolk poll interviewed 319 Republicans and 395 Democrats by phone from Jan. 21-25. It has a margin of error of five percentage points for Democrats and six percentage points for Republicans.