The Vanishing Villages of Central Africa
Ilya Gridneff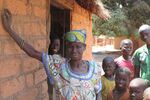 Suzanne Kourma has lived through multiple coups, brutal dictatorships and human rights atrocities in her 80 years in the Central African Republic. None of them were as bad as the violence she's witnessed over the past two years.
Earlier this month, she was forced to flee the village of Bam near the border with Chad because of fighting between mainly Christian anti-balaka rebels and mostly Muslim Seleka insurgents. Her husband was killed and she broke her leg before finding refuge at a camp for displaced people in Batangafo, about 330 kilometers (204 miles) north of the capital, Bangui.
"My village has disappeared," she said in an interview through an interpreter outside one of hundreds of small grass-thatched huts erected on an area of barren earth outside Batangafo. "There has been a lot of violence in my years, but this has been the worst."
Central African Republic plunged into lawlessness after Seleka, an alliance of anti-government rebel militias, overthrew Christian President Francois Bozize in March 2013. The takeover was marked by the widespread killing of civilians and other crimes, according to Human Rights Watch. Thousands of people have died, according to Medecins Sans Frontieres, the Geneva-based medical charity, while the United Nations says more than 2.5 million need urgent humanitarian assistance.
War Crimes
After the Seleka government resigned in January 2014, a transitional authority took over and is supposed to organize elections by August. So far, it has failed to extend its authority beyond Bangui. The country is divided between the anti-balaka militias, which describe themselves as village self-defense groups and whose name means anti-machete, in the west, and Seleka rebels that control the east, according to the UN.
The UN Commission of Inquiry on the Central African Republic said last week that war crimes are being committed in the country and warned that unless perpetrators were held to account, the situation may spiral into genocide.
Grandmother Madeline Denam, 72, from Bimbi village about 12 kilometers from Batangafo, walked all day on Jan. 22 to get to the camp and now cares for her daughter's three children.
"They killed their mother, my daughter," she said. "Seleka burned houses, shops, and killed a lot of people. They're raping people, even old women."
Gold, Uranium
The conflict has disrupted gold and uranium exploration in the country, which is the world's 12th-biggest diamond producer, according to the U.S. Geological Survey. Axmin Inc. had to suspend its Passendro gold project in the country in December 2012 and since then its mine has twice been the site of pit collapses caused by informal mining, with an accident in August causing about 25 deaths. Areva SA has suspended operations in the country and its facilities have been attacked.
At the camp, more than 30,000 mostly Christian displaced people live in thatch huts or use UN-supplied tarpaulins and plastic sheets to shelter from dust, heat and wind. Women stand in line to collect jerry cans of water at two wells, while mounds of cassava are dried on two abandoned basketball courts.
"Life is suffering here," Kourma said while leaning on a walking stick in the searing heat. "There is no food, no water."
Outside the camp, a few kilometers along a bumpy, unpaved orange-earth road, is the memory of Batangafo, a town where Christians and Muslims once lived together. Everything is in ruins. Their mud-brick houses have no roofs, walls have crumbled and empty homes are overgrown with weeds.
Poor Security
Seleka controls the town and continuing fighting with anti-balaka in the region has resulted in a constant flow of people seeking refuge in the camp, Claire Bourgeois, UN Senior Humanitarian Coordinator for Central African Republic, said in an interview in Batangafo.
Security is the biggest issue facing the people living in the camp, said Guy Bleoue, head of the Danish Refugee Council's office in Batangafo. Humanitarian aid is regularly looted and access is difficult because of roaming militias and continuing fighting.
A contingent of about 50 Burundian peacekeepers, part of the UN-backed International Support Mission to the Central African Republic, carry out occasional patrols around the unfenced camp during the day. Most aid agencies pulled out in August after fighting between Seleka rebels and French troops deployed by the country's former colonial ruler.
"The world needs to wake up to the enormity of the crisis in the Central African Republic," Bourgeois said in a statement Tuesday. "This is one of the most serious humanitarian emergencies in the world."
Peul Conflict
The humanitarian crisis is being complicated by intensifying conflict involving the ethnic Peul, who are nomadic cattle herders and a Muslim minority group. Members of the Peul community have routinely clashed with farmers in the past during the dry season over crop destruction by the cattle and access to water and grazing land.
"The long-term resentment between farmers and pastoralists is now expressed in the most brutal way through a cycle of revenge attacks by both sides," said Thierry Vircoulon, Central African Republic project director for the International Crisis Group.
Members of the Peul community are among more than 36,000 people who are trapped in enclaves across the country trying to find asylum in neighboring states, according to the UN commission. Before the violence, the Peul were estimated to number at about 300,000 -– less than 10 percent of Central African Republic's 4.5 million citizens, according to Human Rights Watch, the New York-based advocacy group.
"The Peul are not killing people or burning houses. They are fighting anti-balaka and Seleka who are killing their cattle," said Adoum Takadje, the Muslim mayor of Batangafo. He says the UN has saved the town from turning into a bloodbath.
"With the UN here it is safe, their presence brings safety," he said. "Even though it's not perfect it's better they are here as if not it would be a catastrophe."
Before it's here, it's on the Bloomberg Terminal.
LEARN MORE