The Right Isn't Buying Boehner's Latest Obama Lawsuit Plan
A familiar song for frustrated conservatives.
By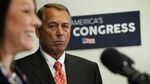 Tuesday morning's meeting of the House Republican conference featured some news, which Daniel Newhauser located first. As the majority continued to fight over the best possible border bills, and consider ways to legislatively end President Barack Obama's executive orders, the speaker would sue. "We are finalizing a plan to authorize litigation on this issue—one we believe gives us the best chance of success," said Boehner, according to Newhauser's source.