Sumitomo Mitsui Quarterly Profit Unexpectedly Rises
Monami Yui and Shingo Kawamoto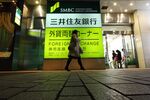 Sumitomo Mitsui Financial Group Inc., Japan's second-biggest bank by market value, unexpectedly posted an increase in third-quarter profit as income from bond trading and overseas lending rose.
Net income climbed 1.8 percent from a year earlier to 202.7 billion yen ($1.7 billion) in the three months ended Dec. 31. That beat the 168.8 billion-yen average estimate of five analysts surveyed by Bloomberg.
Loan growth abroad is making up for a decline in lending profitability at home as interest rates plunge following the Bank of Japan's record monetary easing. While Sumitomo Mitsui has now reached 97 percent of its full-year profit forecast, it refrained from raising the 700 billion-yen prediction, citing factors including an "uncertain" global economic outlook.
"It looks like Sumitomo Mitsui turned interest-rate moves in the bond market into an opportunity to make profit," Ryoji Yoshizawa, a director of financial institution ratings at Standard & Poor's in Tokyo, said by phone. "With domestic lending margins shrinking, the bank extended overseas business."
Income from trading government bonds and other securities increased 24 percent in the quarter to 97.9 billion yen. Net interest income, or revenue from lending minus payments on deposits, gained 9.5 percent to 377.2 billion yen. Fees and commissions rose 7.1 percent to 259.3 billion yen.
Quarterly earnings were calculated by subtracting first-half profit from nine-month figures released in Tokyo on Tuesday.
Overseas Loans
Sumitomo Mitsui had $177 billion of loans outstanding overseas as of December, a 12 percent increase from a year earlier. The Tokyo-based company's loans to Asia accounted for 40 percent, the Americas 35 percent and Europe the rest.
The difference between deposit and lending rates at Sumitomo Mitsui's main banking unit narrowed by eight basis points last quarter from a year earlier to 1.3 percent, it said.
"With interest rates falling, the negative environment remains for banks," Rie Nishihara, an analyst at Mizuho Securities Co. in Tokyo, said before the results. "Lending is recovering but I don't see it as a big upturn."
Japan's 10-year government bond yields fell to a record 0.195 percent on Jan. 20. Loans at city banks have climbed each month since December 2012. The Bank of Japan, which expanded its bond-buying program in October, forecasts economic growth of 2.1 percent in the year starting April.
Negative Environment
Shares of Sumitomo Mitsui closed 3 percent higher at 4,170.5 yen in Tokyo before the earnings were released. Their 16 percent loss over the past 12 months compared with the benchmark Topix index's 16 percent advance.
Sumitomo Mitsui's net income in the April-December period fell 3.2 percent from a year earlier to 682.2 billion yen, it said. That compared with analysts' average estimate of 648.3 billion yen.
In deciding against changing its profit forecast, the bank cited its conservative estimates for bad-loan costs and the need to assess an uncertain global economic outlook. With oil prices tumbling, Sumitomo Mitsui said foreign oil and gas-related industries make up about 5 percent to 6 percent of its credit. Russia, which was cut to junk by S&P on Monday, makes up less than 1 percent, the bank said.
Expectations for a stronger yen compared with last quarter were another reason for keeping the profit goal unchanged, it said. A higher Japanese currency would reduce the value of the bank's foreign-denominated loans and earnings abroad.
"Given the size of Sumitomo Mitsui's exposure to oil and gas-related industries and Russia I think they can contain it," S&P's Yoshizawa said. "Doing more business overseas means the impact on earnings from changes in the yen rate is bigger than before."
Mizuho Financial Group Inc., Japan's third-largest bank by market value, is scheduled to publish its results on Jan. 30. Mitsubishi UFJ Financial Group Inc., the biggest lender, will report on Feb. 3.
Before it's here, it's on the Bloomberg Terminal.
LEARN MORE