PGA's Whaley Poised to Become Golf Group's First Female Leader
Michael Buteau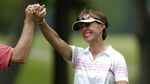 Suzy Whaley vividly recalls when she entered a junior golf tournament at the age of 12, then saw her named crossed off the entry list because she was a girl.
"That was it for my parents," Whaley said. "We switched clubs after that."
Thirty-six years later, Whaley is the first female officer of the PGA of America, and as secretary is poised to ascend to the presidency of the 98-year-old organization in 2019. She was elected the month after former President Ted Bishop was forced out for calling European Tour player Ian Poulter a "lil girl" on Twitter, then writing on Facebook that Poulter sounded "like a little school girl squealing during recess."
This isn't the first time Whaley became a groundbreaker. In 2003, she became the first woman in 58 years to play in a men's PGA Tour event when she qualified for the Greater Hartford Open by winning the state's PGA Section Championship.
While she missed the 36-hole cut with rounds of 75-78, Whaley said that week led her to where she is now.
"That experience was absolutely out of my comfort zone," she said. "I was a mom and working full-time. Nobody really wakes up and thinks 'well, tomorrow I'm going to go play against the best players in the world.'"
Now, Whaley operates a golf instruction school at PGA Tour-owned TPC River Highlands course in Cromwell, Connecticut. When she decided to run for the secretary in a 28,000-member organization that has only 4 percent female members, she was confident that her name wouldn't be crossed off like it was when she tried to sign up for that junior tournament in Syracuse, New York. She also flashed back to that Hartford experience.
'Best Candidate'
"It made it easier for me to step into this arena because I wasn't afraid of failing," she said. "I wasn't afraid of losing. I knew that I could be the best candidate. I was experienced, I was competent and I was capable of doing the job, so I went for it."
Her fellow PGA members agreed. Whaley earned more than 52 percent of the votes, the closest runner up got 33 percent. Traditionally, an election to a two-year term as secretary is followed by pro forma elections for two-year stints as vice president and president.
The news of Whaley's election spread quickly throughout golf, especially among female players. While attending a party near the U.S.-Canada border at New York's Malone Golf Club, which is run by newly elected PGA President Derek Sprague, Whaley was mobbed by the club's female members. Until then, Whaley said the significance of her appointment hadn't hit her.
"They were ecstatic," she said. "That's when I realized that this is going to make a great impact and that we can really make a difference."
Game-Changer
Some players are already looking ahead to 2019, when Whaley takes on the higher profile position as PGA president.
"She can change the face of the game," LPGA player Brooke Pancake said at the PGA Merchandise Show in Orlando, Florida. "It's going to open doors for women who love the game and have as much credibility as anybody else. It's such a male-dominated sport. Whether it's right or wrong, that's just how the game has evolved."
The PGA of America stages the PGA Championship, golf's fourth of four annual major tournaments, and oversees the U.S.'s participation in the Ryder Cup, the biennial competition between American and European teams; as well as being an industry organization for teaching professionals. It is a separate organization from the PGA Tour, the top men's golf circuit in the U.S.
Even with the changes that allow Whaley to become an officer in a male-dominated organization, issues like the one with former president Bishop -- who apologized and said the punishment was too stringent -- are a reminder, Whaley said.
"We still have a long way to go," Whaley said. "But we've come a long way. A very long way."
Before it's here, it's on the Bloomberg Terminal.
LEARN MORE