Obama to Lead Bipartisan Delegation to Mourn Death of Saudi King
Natalie Obiko Pearson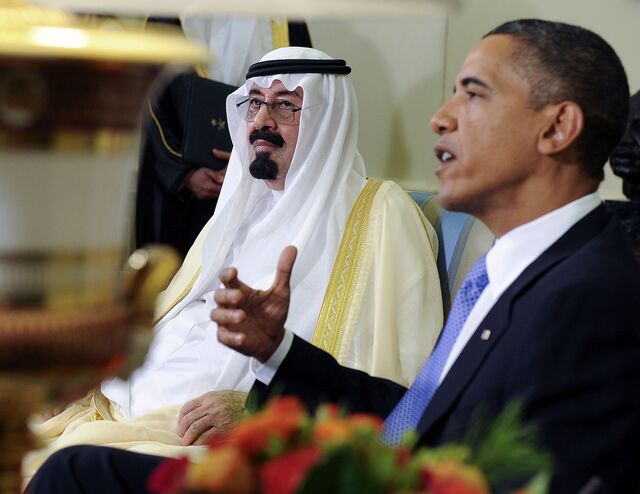 President Barack Obama will lead a bipartisan delegation to Saudi Arabia on Tuesday to mourn the death of King Abdullah, who helped anchor the alliance between Washington and the world's largest oil exporter.
The U.S. leader will offer condolences to the House of Saud, accompanied by a 29-member group that includes Secretary of State John Kerry, House Minority Leader Nancy Pelosi and CIA Director John Brennan, according to a statement from the White House. Republican Senator John McCain of Arizona and former Secretary of State Condoleezza Rice will also attend.
Global leaders have poured in to pay their respects as the new Saudi monarch and half-brother of the late king, Salman Bin Abdulaziz Al Saud, takes the helm of the biggest Arab economy amid political turmoil in the Middle East and tumbling oil prices. Obama cut short his three-day trip to India by several hours to make the stop in Saudi Arabia.
King Abdullah bin Abdulaziz Al Saud died on Jan. 23. As Saudi Arabia's sixth king since 2005 and its de facto ruler for almost a decade before that, his nation supported the U.S. in combating terrorism, keeping the flow of oil through the region secure, and dealing with Iran. Beyond its role as an ally in key Middle East conflicts, Saudi Arabia has also been a major arms buyer from U.S. and European companies.
Obama's decision to hold back from military action against the Syrian government in 2013 and his engagement in talks with Iran strained the decades-old alliance. Despite that, Saudi Arabia joined the U.S. coalition against Islamic State as it faces a growing threat from militant attacks within the kingdom. The U.S. has underwritten the security of Saudi Arabia in an alliance that dates to the 1940s.
Before it's here, it's on the Bloomberg Terminal.
LEARN MORE