Sheldon Silver Must Resign as He Faces Charges, Lawmakers Say
Freeman Klopott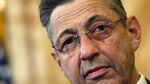 Fellow members of New York Assembly Speaker Sheldon Silver's majority Democratic party said he should resign as he fights federal corruption charges.
The demand came after lawmakers met Monday behind closed doors for more than five hours in Albany, New York's capital, debating the future of Silver's 20-year reign as the state's top lawmaker. If he chooses not to leave his leadership post, there are probably enough votes to oust him, said Assemblyman Brian Kavanagh, a Manhattan Democrat.
"A majority of the members of the legislature do have the power to remove the speaker," Kavanagh told reporters after the meeting. "It has been conveyed to him that many members of the conference believe that the appropriate thing for him to do is resign his speakership." Kavanagh said Silver "should understand he has lost the confidence of a majority of our conference."
On Jan. 22, a complaint against Silver was unsealed in federal court in New York City. According to the filing, Silver used his position to refer asbestos cases from an unnamed doctor to a firm he worked for while also inducing real estate developers to retain another firm, collecting as much as $6 million in kickbacks. Charged with five counts including conspiracy and fraud, Silver faces as many as 20 years in prison on each count.
Plan Rejected
Silver, 70, had proposed a plan Jan. 25 in which he would retain his title while the Assembly was led by a leadership group of his choosing. The plan was rejected by Governor Andrew Cuomo, who said it would be overly complicated, and by almost 20 Democratic members from the New York City suburbs.
"I am the speaker," Silver said Monday after the meeting. "I have not told anyone that I am resigning."
He said he expects to be fully exonerated.
Silver represents the city's Lower East Side. First elected in 1976, he was chosen as speaker in 1994 and never lost power, even thwarting an attempted coup in 2000 by then Majority Leader Michael Bragman.
Kavanagh said Democrats will return to the capitol Tuesday to continue discussions about who will take over as speaker. If Silver resigns, Majority Leader Joe Morelle, of Rochester, would serve as interim speaker until a new one is chosen, Kavanagh said citing Assembly rules.
Successor's Role
The successor would play a key role in negotiations with Cuomo, whose Jan. 21 budget takes on teachers unions from whom the Democratic majority partly draws its power. Silver has helped Cuomo, a fellow Democrat, win over a chamber whose members don't always agree with the governor's limits on spending and worker benefits.
Assembly Democrats initially said they supported Silver after meeting for almost two hours behind closed doors on Jan. 22. That was before they said they had read the complaint and before returning to their districts where they met an outraged public and heard from editorial boards calling for him to relinquish his post. Assembly members convicted of crimes must resign. Amy Paulin, a Westchester County Democrat, also said the conference determined Silver should resign.