Nantucket Islanders Lose Power, Phones to Northeast Blizzard
Tom Moroney and Brian K. Sullivan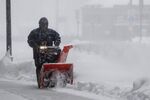 Nantucket, the Massachusetts resort island about 35 miles south of Cape Cod, lost all its electrical power early Tuesday, making it one of the areas hardest hit by the New England blizzard.
National Grid, which supplies Nantucket, reported 12,286 of its customers were without electricity mid-morning, according to its website.
The power went off at 7 a.m., when salt-water spray buffeting a substation in hurricane-force gusts shut down its two transformers, according to Marcy Reed, National Grid's president in Massachusetts. The two undersea cables that feed the island from the mainland remained operational, she said.
Police Chief William Pittman said he was told it would be six to eight hours before power was restored. Reed said that time frame was "optimistic" and declined to speculate when her crews would finish. High winds were a major obstacle, she said. Linemen couldn't be lifted in buckets to survey the system, a precursor to switching power back on, until the winds that were clocked at 45 miles an hour (72 kilometers an hour) midmorning Tuesday dropped to 35 mph.
"It would be just a nasty nor'easter," Pittman said, if not for the power loss.
Beverly Blasted
Outside of Nantucket, the hardest-hit area in Massachusetts for National Grid was Beverly, where 224 customers were in the dark as of 10 a.m., Reed said.
While New Yorkers were relieved the storm didn't live up to expectations there, in New England high winds and mounting snow totals continued throughout the day.
Trained weather spotters reported amounts ranging above 20 inches across a large portion of central and eastern Massachusetts, the National Weather Service said. At the Worcester, Massachusetts airport 26 inches had fallen by 9:43 a.m.
In Edgartown, on Martha's Vineyard, Nantucket's island neighbor, 16 inches were reported, the weather service said.
As of 11 a.m., heavy, blowing snow was still coming down at Boston's Logan International Airport.
Governor Charlie Baker declared a state of emergency Monday. Commuter rail, buses and subways of the Massachusetts Bay Transportation Authority have been halted. A travel ban was lifted for the western part of the state but remained in effect for the rest of Massachusetts.
On Nantucket, the immediate concern was for about a half-dozen elderly residents who rely on electricity to operate their oxygen supplies. Pittman said emergency personnel were reaching out to them. Across the island, about a foot of snow had fallen by Tuesday morning.
There was isolated flooding on some beachfronts where wind and water erosion has become a major issue over the years and a picture window in one home was blown out by the wind, all together forcing the evacuation of a handful of families, Pittman said.
Islanders also lost mobile phone service, according to Peter Judge, spokesman for the Massachusetts Emergency Management Agency.
"The folks on Nantucket are a hardy lot, a lot of them have their own generators," Judge told Bloomberg Radio. "We're concerned but not worried."
Before it's here, it's on the Bloomberg Terminal.
LEARN MORE