Israeli Arab Parties May Tip Scales in Bid to Defeat Netanyahu
Calev Ben-David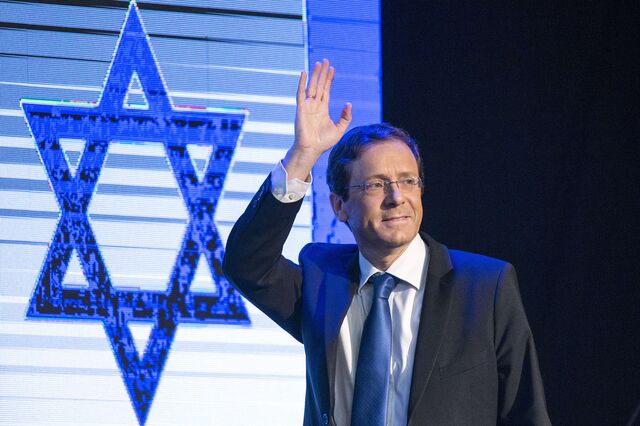 Israel's Arab parties, historically on the margins of the Jewish state's politics, may hold the key to toppling Prime Minister Benjamin Netanyahu.
Polls before Israel's March 17 election show the Labor-led Zionist Camp outpacing Netanyahu's Likud in the race to lead Israel's next coalition government. They also suggest Zionist Camp would need backing from Israeli Arab parties that generally don't support the government and formed a joint ticket last week to try to bolster their parliamentary clout.
Israel's Channel 10 reported this month that Labor leader Isaac Herzog approached two Arab party leaders, Ra'am-Tal's Ahmed Tibi and Hadash's Mohammed Barakeh, about joining a government he'd lead or supporting it from the sidelines to create the critical mass needed to deny Netanyahu a fourth term. While neither confirmed the report, they didn't rule out acting to block another Likud-headed coalition.
"If the results of the election are that a left-center bloc has a chance of forming a government, and it needs our support as a blocking majority, or safety net, we will positively consider this idea," Ra'am-Ta'al lawmaker Masud Ganaim said by phone. "Joining a government is something no Arab party has done, therefore we will wait and see the election results before deciding what the conditions would be for our support."
Herzog and his political partner, former chief negotiator Tzipi Livni, have made it a priority to revive the moribund peace process with the Palestinians that's strongly supported by Arab parties. Netanyahu and his allies have expressed skepticism or outright rejection of attaining a two-state final agreement anytime soon.
Outside Backing
Arab parties draw most of the votes from the country's 20 percent Arab minority. While they've never joined a ruling coalition -- they've been shunned and unwilling -- they have provided outside support to Labor-led governments, including the one headed by Yitzhak Rabin that signed the historic 1993 peace accords with the Palestinians.
A Midgam Research and Consulting Ltd. poll broadcast on Channel 2 television on Jan. 26 showed Zionist Camp winning 26 of parliament's 120 seats and Likud 23. With at least 10 parties expected to be represented in parliament, Zionist Camp would have to persuade antagonists to sit together in the same government -- or form a minority government relying on the united Arab party's support. The same poll of 575 people, which had a margin of error of 4.5 percentage points, gave the united Arab list 12 seats, up one from the Arab parties' current 11.
'Blocking Majority'
"Herzog can't bring the Arabs into a coalition because the other parties won't accept them, but he will need their support to form a 'blocking majority' of parliamentary seats to prevent Netanyahu from forming a government," said Shmuel Sandler, a political scientist at Bar-Ilan University near Tel Aviv.
Dozens of Arab lawmakers have served in Israel's parliament, or Knesset, over the years, representing both Arab parties and Zionist movements such as Labor and Likud. The Arab parties currently in Knesset have had strained relations with the state over their anti-Zionism, championship of a Palestinian state and sympathy with their ethnic brethren in the West Bank and Gaza Strip.
The four -- Hadash, Ra'am, Ta'al, Balad -- joined forces in the United Democratic Party slate last week to counter a new law raising the minimum number of votes to win a parliamentary seat. Doing so meant overcoming divisions in ideologies that range from orthodox Marxism to Islamic fundamentalism, including allowing the communist Hadash to retain its one Jewish representative.
Turnout Boost?
"The Arabs are a large percentage of the country, and we will put all our weight in the next elections to ensure that the right wing will not return to power," Hadash chairman Ayman Odeh, who heads the unified list, said at a press conference in Nazareth on Friday.
A poll published last week by The Abraham Fund Initiatives, a co-existence group, indicates the unified list would boost Arab voter turnout to 66 percent from 56 percent in the 2013 elections, close to that year's overall rate of 68 percent. The survey of 514 Israeli Arabs had a 4.5 percentage point margin of error.
To get those extra votes, the united ticket must focus on the Arab minority's domestic concerns as much as it does on the Palestinian issue, according to Mohammed Darawshe, a former campaign manager for Balad. "Education, infrastructure of Arab towns, job opportunities, and chances for increasing integration into Israeli society" must be high on the campaign agenda, he said.
Ticket Assailed
In exchange for supporting a pro-peace Zionist government, the Arab list must demand "full equality in budget allocation" for Arab communities, expansion of land available to Arab towns, and target dates in peace talks with the Palestinians, said Darawshe, a senior official at the Givat Haviva social activism group.
The joint ticket has drawn fire from Foreign Minister Avigdor Liberman, who has accused Israeli Arab politicians of disloyalty, and called to execute Arab lawmakers who met with leaders of Hamas, labeled a terrorist group by Israel, the U.S. and European Union. Arab legislators say Liberman spearheaded the move to raise the threshold for winning a Knesset seat in an effort to limit their influence.
Liberman's Yisrael Beytenu party said in a statement that it would petition the Central Elections Committee to disqualify the Arab list because it includes Balad. A Balad lawmaker, Haneen Zoabi, was censured by the Knesset for boarding a Turkish-led flotilla that tried to breach Israel's maritime blockade of Gaza in 2010.
Balad chairman Jamal Zahalka predicted Liberman would get his payback at the ballot box.
"Whoever didn't want the Arab parties to have 10 seats in parliament," Zahalka told Israel Radio last week, "will see them get 15."
Before it's here, it's on the Bloomberg Terminal.
LEARN MORE