Photographer: Uriel Sinai/Getty Images
Inside the Massive Project to Uncover the Holocaust's Nameless Victims
Seventy years after the freeing of Auschwitz, Israel is still trying to solve the mystery of 2 million unidentified Holocaust victims
By
In the final months of World War II, Yehudah Rubashevsky was among the Soviet soldiers who marched to Auschwitz to free the prisoners who had survived the concentration camp. On Jan. 27, 1945, three-dozen Jewish girls, starving and ill, were put under Rubashevsky's protection. As a token of their gratitude, the newly liberated girls presented him with a handmade wallet embroidered with his initials that had a signed thank-you note tucked inside. Rubashevsky held onto the wallet until the day he died in 1973 to remind him of the horrors he had witnessed in southern Poland.
Prior to his death, the Russian war veteran conveyed a request to his daughter. "A few days before my father died, he asked me—it was his wish—that I would find out what happened to those girls," Vladilena Rubashevsky, 84, says in Russian. The wallet and letter, which she inherited from her father, were all she had to go on.
Today, exactly 70 years since the liberation of Auschwitz, about 2 million of the 6 million killed in the Holocaust remain nameless. Israel's Yad Vashem, established in 1953 to commemorate, research, and document the atrocity that Jews call the Shoah, hopes its digitization of millions of documents, along with the development of big-data software tools, will change that.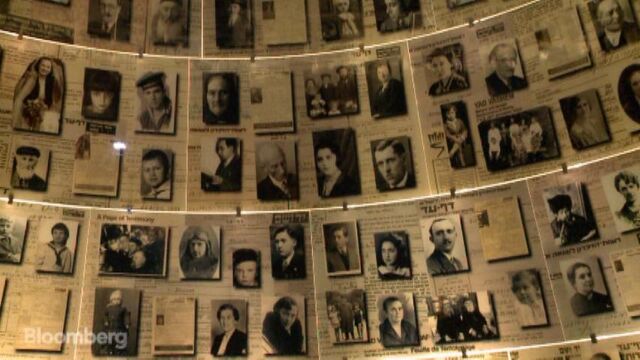 The quest to remember those murdered in the Holocaust is aided by donations of artifacts from the era. After the late soldier's daughter moved to Israel in 1991, she gave Yad Vashem the wallet and letter in the hope that they would help track down the families of the girls her father saved. The institution has collected, over the years, the world's largest archive of Holocaust documentation. It started transferring physical records, including handwritten notes, autograph books, diaries, audio recordings, and video tapes, into computer files in the late 1990s. Silicon Valley giants such as Google, which chipped in to create an online photo archive, have helped in recent years to boost what is now a team of 200 people capable of scanning 10 million documents a year.
With about 120 million documents digitized, the project is far from complete. Yad Vashem plans to finish the scanning of the remaining 60 million records it holds by 2020, but this goal may be extended as more documents are discovered and more countries open previously closed archives to researchers.
Gabriel Weimann, an Internet expert and communications professor at the University of Haifa in Israel, says he spent hours in the library as a child, researching the Holocaust and trying to piece together his parents' history. Like many Auschwitz survivors, they didn't like to discuss their experience. His investigation would have been a lot easier if the Internet had been available. "Posting the information online has many advantages, especially for the future generations," Weimann says.
To reach younger generations, Avner Shalev, chairman of Yad Vashem, sees the project as nothing less than a fight to make sure that the Holocaust is not forgotten as a human tragedy. "If we don't give them accessibility, and we don't complete this digitization revolution, in 10 to 20 years from now, we won't exist at all," says Shalev. For Michael Lieber, Yad Vashem's chief information officer, that means designing a modern online destination that doesn't feel like a museum website. "We have to make it easy and natural," Lieber says. "We are talking Holocaust but also super-high-tech."
So far, it's working. Virtual visits to Yad Vashem's website grew to 14 million last year as people search the name, photo, and video databases seeking loved ones or satisfying intellectual curiosity. Lieber says the main challenge his team of 15 faces is making sure that visitors to the site get the information they seek quickly; they have written software that can scan a 500-page file in seconds. Applications that have been developed in-house can draw connections among text in a paper document, sounds from an audio snippet,  and a page from a handwritten notebook to unearth unexpected clues. The complexity of this task is compounded by the fact that the files contain more than 20 languages. The note in Rubashevsky's wallet, for example, was written partly in Cyrillic script.

Yad Vashem's current database is contained in a roomful of servers handling a petabyte of data, or about 1 million gigabytes. It's the kind of big-data challenge that many large businesses are facing today—except this one involves the history of an entire people.
Using one of the organization's more advanced search tools, Yad Vashem researchers were able to track down a Latvian Holocaust victim this month, using a missing-persons report filed in 1957. The paperwork contained only a last name, his occupation, and nicknames given to his children. The system found a possible match in an application with the Latvian Education Ministry from a man named Boris Grinman. Cross-referencing with documents from the Interior Ministry, researchers found Grinman's passport, noting that he'd changed his name to Dov. They then traced Dov Grinman to a Jewish school in Liepāja, where he he had filled out a document listing his three children. Once they knew they'd found their man, the researchers compiled a dossier with details about his life and family. The last marker came in a Nazi census database from 1941, just a few months before Jews in the Latvian city were rounded up and killed.
Researchers were aided by a Yad Vashem search tool that brings up variations of names, which let them match Grinman's children's nicknames, as written in the original 1957 document, to their real names on the document from the Jewish school. "We had to develop sophisticated search-and-retrieval tools to enable our experts to examine the data and [then] look for nicknames and related names and cross-reference the information," Alexander Avram, director of Yad Vashem's Hall of Names memorial, said.

Thanks to the breadth of digitized documents now in the database, Yad Vashem was able to begin helping Vladilena Rubashevsky fulfill her father's dying wish. Running each of the names in the note from the soldier's wallet through Yad Vashem filters, researcher Evgeny Rozin followed every lead.
On New Year's Eve 2014, Rubashevsky received the call she'd been awaiting. Yad Vashem had successfully identified one of the girls her father had rescued: Olga Klein. Yad Vashem reached out to Klein's next of kin and set a time for a meeting. Sixty-year-old Zvi Kreizman, Klein's son, was stunned by the call. "We tried to understand what happened to my mother, but she never wanted to talk about it," he says.
Shortly after that discovery, Yad Vashem thought it would have a further bit of good news for Rubashevsky. Rozin was almost certain he'd found the daughter of a second girl the soldier helped save. But a phone call proved him wrong, highlighting the immense challenge of uncovering the fate of Holocaust victims.
Before it's here, it's on the Bloomberg Terminal.
LEARN MORE