Highfields Clients Said to Pull 3% of Assets at Year-End
Sabrina Willmer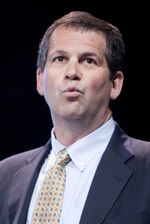 Highfields Capital Management, the investment firm run by Jonathon Jacobson, told clients at year-end that it expected redemptions equaling about 3 percent of its $12.5 billion in assets.
The redemptions, which would be about $375 million, come after Boston-based Highfields posted low single-digit returns last year, said the people, who asked not to be identified because the information is private. The firm is closed to new investments and returned about 15 percent of capital to clients in 2013 after it gained 27 percent that year.
Highfields, which has only had two losing years since its inception in 1998, was among many firms posting smaller gains as the hedge fund industry put in its worst showing since 2011. Funds averaged gains of 1.4 percent in 2014, trailing the 14 percent total return by the Standard & Poor's 500 Index, according to data compiled by Bloomberg. Seth Klarman's $28.5 billion Baupost Group climbed as much as 8 percent, compared with its 17 percent annualized return since inception.
Molly Morse, a spokeswoman for Highfields at Kekst & Co., declined to comment on Highfields' redemptions.
The firm's investment in mortgage-servicing company Ocwen Financial Corp. dragged on performance. Ocwen's shares fell 73 percent last year as the company was accused by U.S. and state regulators of mishandling foreclosures. Highfields' exposure to Greek bank debt also hurt returns, one of the people said.
Jacobson, 53, co-founded Highfields after managing equities for Harvard's endowment. The firm can make equity and debt investments globally in event-driven or distressed situations, including restructurings, management changes and recapitalizations. It also takes positions on the rise and fall of stocks.
(An earlier version of this story was corrected to show that the firm has had only two losing years.)
Before it's here, it's on the Bloomberg Terminal.
LEARN MORE