Delhi Airport Dollar Debut Spurs $1 Trillion Plan
Anurag Kotoky and Neha D'silva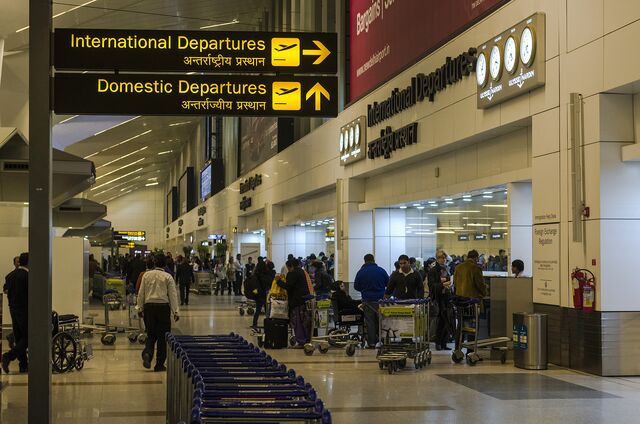 Delhi International Airport Ltd. tapped global funds for the first time as issuers look abroad for the $1 trillion needed to revamp India's creaking infrastructure.
The operator of India's busiest airport sold $288.75 million of seven-year notes at 6.125% yesterday. Proceeds from the dollar bond sale will help refinance a $350 million loan due 2021 whose terms the company breached by, among other things, exceeding debt coverage ratios, the notes' offer document shows.
India needs to spend about $1 trillion on highways, harbors and power plants between 2012 and 2017, double the previous five years, to better compete with China, whose economy has swelled to almost five times the size of its in 35 years. Asia's third-biggest economy is ranked 87 out of 144 nations by the World Economic Forum for infrastructure quality, below war torn Ukraine and 25 spots below Kazakhstan, which has roughly the same land mass.
"This is why a vibrant corporate bond market has become an imperative," said Raman Uberoi, the Mumbai-based business head of large corporates at Crisil Ltd., the local unit of Standard & Poor's. "Innovation in the bond market will eventually open the flood gates for capital to key sectors of the economy."
Junk Rating
Delhi International Airport is the first among transport, railroad, logistics or construction materials manufacturing companies in India to sell dollar bonds to international investors, according to data compiled by Bloomberg. Of the $15.8 billion of U.S. currency notes sold by Indian companies last year, $6.7 billion, or 42 percent, were from banks.
The company is rated Ba1 by Moody's Investors Service, its highest speculative grade, and BB by S&P, the second top non-investment score. That makes it the first Asian company to sell high-yield dollar-denominated bonds this year as a payment delay by Kaisa Group Holdings Ltd., a developer in the southern Chinese city of Shenzhen, pushed up borrowing costs across the market.
The last junk dollar bond sale from India was in November when Indiabulls Real Estate Ltd., a New Delhi-based builder of luxury office and residential apartments, raised $175 million via five-year 10.25 percent notes. The securities, sold to investors at par, are trading at 91.8 cents on the dollar.
Interest Caps
Two other high-yield companies, Lodha Developers Ltd. and Reliance Communications Ltd., scrapped planned offerings in December.
The central bank also sets maximum amounts that companies can pay to borrow offshore, further limiting their scope for international fundraising. The Reserve Bank of India's external commercial borrowing guidelines set an all-in cost ceiling of 350 basis points over the six-month London interbank offered rate for maturities of up to five years and 500 basis points for debt that has to be paid back in five years or more.
"In this market, where high-yield names have been under pressure," there's a limit to the number of companies that can issue below the external commercial borrowing cap, said Harsh Agarwal, the Singapore-based head of Asia credit research at Deutsche Bank AG.
Pot-Holed Highways
Infrastructure companies face a double whammy because they're typically state owned, which means their tariffs are generally set by the government. "The moment you have tariff uncertainty, which is typical for regulated infrastructure companies in emerging markets, that causes investor concern," he said.
Global investor interest in India is reflected in a 2.6 percent rally in the rupee this year, the best performance among major Asian currencies against the dollar. It's also helped drive the 10-year sovereign bond yield down 16 basis points in 2015 to 7.69 percent.
Prime Minister Narendra Modi, who came to power in May last year, plans to spend $25 billion building power plants, roads and airports to unclog India's choked transport links. Narrow, pot-holed highways lengthen road trips, while century-old rail tracks laid by the British mean express trains travel on average 50 kilometers (31 miles) an hour.
Modi's predecessor, Manmohan Singh, said in September 2011 India needs to invest $1 trillion in infrastructure over the next five years.
"It will have to be a mix of domestic and overseas funds," said Bhavik Damodar, a Mumbai-based partner in the infrastructure and government services business of KPMG LLP. "The full capacity doesn't exist in the domestic space so companies will look overseas for debt, and equity, funding. It also works the other way because foreign investors see this as a good diversification with good returns."
Upgrades Rule
Modi's government has allocated 523 billion rupees ($8.5 billion) for roads and 500 billion rupees for urban infrastructure. In October, it relaxed rules for overseas investment in property development and construction. The finance ministry now predicts the economy will expand as much as 5.9 percent in the 12 months through March 2015, after the growth rate slipped below 5 percent in the previous two years.
The credit scores of Indian companies are being upgraded at the fastest pace in five years with ICRA Ltd., the Indian arm of Moody's, raising the ratings of 870 local borrowers in 2014 and cutting 539.
ICRA's Mumbai-based chief rating officer Anjan Ghosh said this month business sentiment has improved considerably. Moody's said in October Modi's policies should also enhance the sovereign's credit profile. It currently rates India at Baa3 with a stable outlook, while S&P ranks it BBB-, also one level above speculative grade.
That positive sentiment is translating into dollars for some companies in India. Reliance Industries Ltd., the operator of the world's biggest oil refining complex, last week achieved a record low coupon for its latest U.S. currency bond sale.
"India's economy, and its infrastructure sector, enjoy better investor confidence than they used to," Damodar said. "There are a lot of foreign guys who want to participate."
Before it's here, it's on the Bloomberg Terminal.
LEARN MORE