Carney Names Executive Directors to Fill BOE Shakeup Vacancies
Jennifer Ryan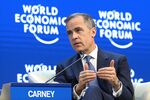 The Bank of England named two new executive directors as Governor Mark Carney continues his overhaul of management at the three-century-old institution.
Alex Brazier was appointed Executive Director for Financial Stability Strategy and Risk after he served as the governor's private secretary, the BOE said on Tuesday. Sam Woods was named Executive Director for Insurance Supervision, moving from his role as Director for Financial Stability.
Both positions have been vacant for almost six months after Carney introduced the biggest management shakeup since the bank gained policy independence in 1997, part of a revamp after the BOE absorbed new powers to regulate the financial system. Carney was directly involved in the latest appointments and interviewed shortlisted candidates.
Brazier fills a position vacated when Spencer Dale quit to join BP Plc just two months into the role. Carney removed Dale, a 20-year veteran of the bank, from his position as chief economist in March and had him swap jobs with Andy Haldane.
Brazier will sit on the bank's Financial Policy Committee, which is charged with tackling risks to U.K. financial stability. The panel introduced measures last year to control some risky mortgage lending.
Woods replaces Julian Adams, who quit to join Prudential Plc. That departure was announced Aug. 6, two days after Dale's.
Woods transfered to the BOE in 2013 from the Financial Services Authority as part of the shift in regulatory and supervisory functions to the central bank.
The two positions were advertised to potential candidates inside and outside the BOE, and the bank also used executive-search company Odgers Berndtson. After candidates were interviewed by the governor, final selections were approved by the Court of Directors.
Before it's here, it's on the Bloomberg Terminal.
LEARN MORE