Photographer: David Paul Morris/Bloomberg
Apple Watch Will Ship in April
by
Apple CEO Tim Cook announced during an earnings call on Tuesday that the company's much-anticipated Watch will ship in April. This is the first time that Apple has committed to a shipping date.
First announced in September, Apple Watch will come in three different editions with pricing starting at $349. It will only work when paired with an iPhone. Users can navigate through the device using the touch and force sensitive screen or the innovative digital crown — the small dial found on the side of traditional watches.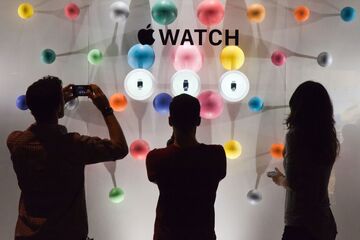 Amongst other features, the watch includes an accelerometer and a pulse sensor which, when paired with Apple's Health and Fitness apps, will help track your activity. It will also work with Apple Pay.
It's worth noting that the company still hasn't said anything about the watch's battery life. Apple news site 9to5mac reported last week that the company has been targeting a battery life of 19 hours of mixed usage daily, but these first generation watches will likely fall short of that goal. Concerns about battery life likely pushed the retail launch back from late 2014 to the now-announced April, the site said.
Before it's here, it's on the Bloomberg Terminal.
LEARN MORE