Apple Watch to Be Shipped Starting in April, CEO Cook Says
Adam Satariano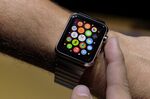 Apple Watch is coming in April.
Apple Inc. Chief Executive Officer Tim Cook said on a conference call that the much-anticipated wearable gadget will be shipped starting that month. The company hadn't previously announced what specific month the watch would be available.
The time frame is one of the first details Apple has provided about the device since the smartwatch was unveiled in September. The Cupertino, California-based company hasn't given any information about the gadget's battery life or how much models will cost, other than $349 for the basic version.
At the introduction, Apple said the watch would be available in early 2015. The device must be paired with an iPhone to work and has a rectangular, touch-screen face. A dial on the side will be used for navigating between functions, and it will come in two sizes, as well as three styles -- classic, sports and gold edition. The device includes sensors to detect a pulse rate and has other health-tracking features for monitoring things like calories burned.
The watch includes other applications for maps, photos, music and messages, and Apple has released software for developers to build their own watch-specific programs.
"The creativity and the software innovation going on around Apple Watch is incredibly exciting," Cook said on the conference call.
New Category
The watch is Apple's first new product category since debuting the iPad tablet in 2010. If successful, the device could help diminish Apple's increasing dependence on the iPhone, which accounted for 69 percent of the company's sales in the quarter that ended in December. IPad sales slipped 22 percent from a year earlier.
Analysts have already been guessing how many watches Apple may sell. Morgan Stanley has projected Apple Watch will generate $8.1 billion in revenue in fiscal 2015, including $1.35 billion in the March quarter, while RBC Capital Markets said Apple could "conservatively" generate $6.5 billion in revenue from 20 million watch shipments.
"My expectations are very high," Cook said of Apple Watch. "I'm using it every day and love it and I can't live without it."
Before it's here, it's on the Bloomberg Terminal.
LEARN MORE