Alibaba Cash and Tax Plans Top Questions Facing Yahoo's Mayer
Brian Womack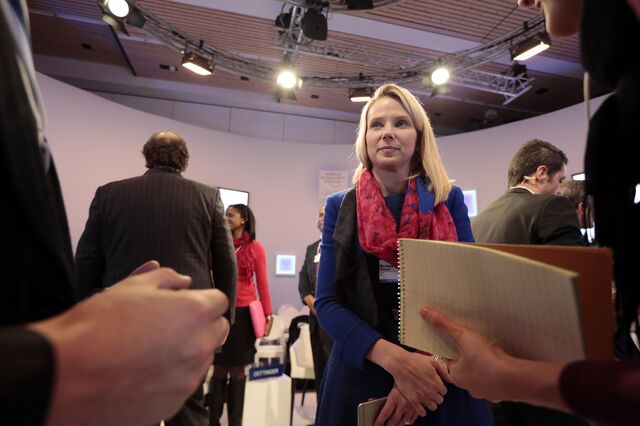 When Yahoo! Inc. releases quarterly earnings on Tuesday, the top question for investors will be the Web portal's plans for its stake in Alibaba Group Holding Ltd. and how it can unload the holding without incurring a tax penalty.
With Starboard Value LP and other investors pressing for Chief Executive Officer Marissa Mayer to return cash to stakeholders, she will need to show Yahoo can do so without overpaying in taxes, as Mayer did when the company liquidated part of the Alibaba holding at the Chinese company's September initial public offering. The CEO has promised an update on her plans when the Sunnyvale, California-based company reports quarterly earnings on Tuesday.
"They're going to have give clarity on what they plan on actually doing," said Ben Schachter, an analyst at Macquarie Securities USA Inc. "Shareholders have been dying to get their hands on that cash for a long time."
Sarah Meron, a spokeswoman for Yahoo, declined to comment.
Yahoo's stakes in Alibaba and Yahoo Japan Corp. are worth about $48 billion and have supported Yahoo's value in the past two years. The assets have given Mayer, who became CEO in 2012, cover from shareholder pressure as she worked to drive a turnaround at Yahoo, where revenue has been stagnant for the past five years.
Here are the main questions facing Mayer:
Plan for Asian Assets
Starboard disclosed a stake in Yahoo in September and pushed for the company to break up and merge with rival AOL Inc. to minimize taxes while cutting costs. Yahoo, which is valued at more than $46 billion, could spin off its stake of about 15 percent in Alibaba as a separate company, with the value going to Yahoo investors, leaving Mayer with a smaller company to run.
Schachter said Yahoo's core operations are worth about $6.5 billion, excluding cash holdings of about $10 billion.
Another tax-free alternative known as a cash-rich split would involve Alibaba or another affiliated company giving Yahoo cash and an active business in exchange for its Alibaba shares.
"It's a large swing factor for the value of the company as a whole, depending if they handle it in a tax-efficient way, in a responsible way," said Ryan Jacob, who manages Yahoo shares as part of his Jacob Internet Fund. "It really can run the gamut -- what they're going to do with this."
Spending
Mayer also needs to provide clarity on Yahoo's $10.3 billion in cash, much of which includes proceeds from the sale of Alibaba shares last year. Starboard has been particularly critical about the CEO's acquisitions, which haven't led to strong revenue growth.
While Yahoo spent about $1 billion to buy blogging service Tumblr in 2013, it's expected to produce about $100 million in revenue this year. The CEO has also been spending money on producing original video content.
Mayer pointed out in October that Yahoo has a track record of returning much of the company's cash to shareholders, including billions of dollars in buybacks in recent years. In July, Yahoo said it will return at least half of the IPO proceeds from Alibaba.
Core Business
Yahoo boasts more than 1 billion users, making it among the largest Internet companies in the world. Yet its advertising business is a fraction of the size of bigger rivals and it's struggling to make up ground. EMarketer Inc. estimates Yahoo had 2.4 percent market share for searches last year, down from 2.8 percent in 2013.
The company is projected to report fourth-quarter sales, minus those passed on to partner sites, of $1.18 billion, according to analysts' estimates compiled by Bloomberg. That compares with $1.2 billion a year earlier, and a decline would be the sixth out of the past eight quarters.
Yahoo has been trying to make up ground by rolling out better services for smartphones and tablets, where users are increasingly accessing digital content. In addition, the company also recently struck a deal with browser provider Mozilla to make Yahoo search the default option on Firefox browsers in the U.S., helping boost market share.
Mayer will need to show progress -- even as investors appear to care more about Yahoo's assets than operations.
"She's on a short leash," Jacob said. "Investors aren't dumb. They understand the only reason Yahoo's stock has done so well is the execution at Alibaba, not the execution at Yahoo."
Before it's here, it's on the Bloomberg Terminal.
LEARN MORE