Will 'New Car Smell' Be a Problem for Mike Huckabee in 2016?
He long ago stopped being a fresh face in Iowa, the state that will kick off nomination voting just more than a year from now.
By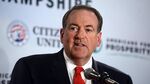 WINDSOR HEIGHTS, Iowa—To the people of Iowa, Mike Huckabee is a known commodity.