Why China Wants to Rain on Obama's India Parade
Obama goes to New Delhi to announce a breakthrough deal on nuclear power, and China dismisses U.S.-India progress as "superficial"
By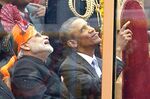 President Barack Obama was the guest of honor today at the biggest event of the year in New Delhi. It was the annual Republic Day parade, a three-hour extravaganza of floats, marching bands, and military gear. Getting Obama to attend is a major victory for Prime Minister Narendra Modi, the first Indian leader to host an American president at the big parade, and is yet another sign the two countries are getting closer. This is the second summit meeting between the two leaders since Modi came to power in May.