Runway vs. Reality: Hats Worth Wearing From Paris Fashion Week
Not everything you see on the catwalk should make your closet
By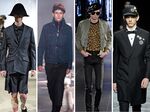 That's it, fashion fans. The proverbial fat lady has sung—or rather, since this is Paris Fashion Week, a skinny Hedi Slimane took a bow after the Saint Laurent F/W '15 collection debut and concluded menswear month in Europe. 
But before we head home to New York, let's play Runway vs. Reality one last time, a game in which we take a catwalk trend we simultaneously loved and hated and show you the best way to actually pull it off. (Previous editions: "teddy bear" coats, baggy pants, oversize scarves, and fur.)
Today's trend: Headwear

AMI, one of our four Parisian labels to know, showed us the proper way to wear a beanie in his new F/W '15 collection (above, second from left), a signature twist on his prep school-meets-bad boy aesthetic. The collection consisted of exceptional outwear and acid wash denim, and like his clothes, the headwear was all about the fit: not oversize (think hobo or LA "actor") and not too tight (like a wool swimming cap), but just loosely, snugly right. Dior Homme (far right) also nailed the headwear game. We applaud Kriss Van Assche for pairing dressed-up elegance with a plain black baseball cap, injecting that casual-yet-über-cool sporty vibe into the tux. Suits with sneakers have been a major trend the past few years, so it was only a matter of time before baseball caps joined the fray. Whether it's designer or  your go-to weekend rig (à la Mitchell & Ness or New Era) repping your favorite sports team, just make sure it's as clean and fitted as the suit you're pairing with it. 
Now, on the less-than-functional end of the spectrum: headwear that should stay on the runway. Hedi Slimane always delivers and as expected brought skinny silhouettes and kick-ass rocker vibes to life in his latest Saint Laurent collection, but he went a bit overboard with what seems to be a French beret (above, second from right). Advice for life: Let the French do their thing. Everybody may be a hat person, yes, but unless you're a school girl or a Parisian artist, leave that beret on the rack. (While we're at it, skip that cheetah-print top, too.) And although we said back in September that bucket hats were a trend, we may reconsider; the Amish-looking version from Comme des Garçon Homme Plus (above left) is not what we had in mind. 
(Moti Ankari is the associate market editor for Bloomberg. Follow him on Twitter @motiankari and Instagram @themetroman or contact him at mankari@bloomberg.net.)
Before it's here, it's on the Bloomberg Terminal.
LEARN MORE