Putin Salutes Tsipras Win as He Courts Europe's Upstart Parties
Ott Ummelas and Jake Rudnitsky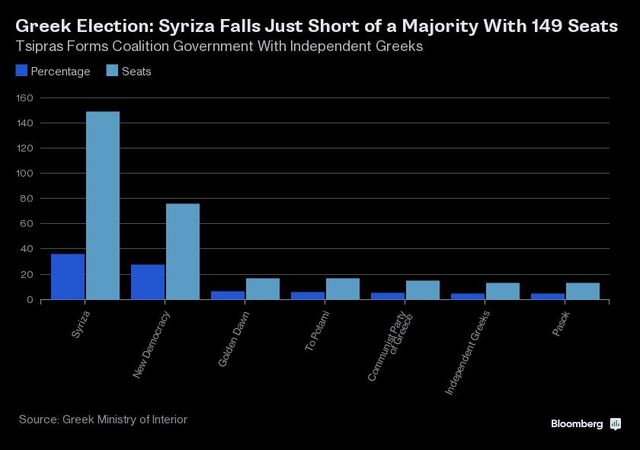 Russian President Vladimir Putin sent the new Greek Prime Minister Alexis Tsipras a congratulatory telegram after his far-left party won national elections, offering to boost cooperation between the countries.
Putin wished Tsipras success in "difficult conditions," and said the two countries will continue to cooperate in resolving European and global issues.
Euro-area finance ministers are gathering Monday in Brussels to discuss Greece. Tsipras said in a post-election speech that his priority is "for Greece and its people to regain their lost dignity," after his Syriza party won a mandate to confront an austerity program imposed in return for pledges of 240 billion euros ($270 billion) in aid since May 2010.
Syriza won its historic election victory by harnessing a public backlash against years of belt-tightening, job losses and hardship. Putin, who has cultivated ties to non-establishment political parties in Europe including Britain's UKIP and France's National Front, is being threatened with additional European Union sanctions over the conflict in eastern Ukraine.
"It has been Russia's consistent policy to divide and rule," Viatcheslav Morozov, a professor of EU-Russia studies at Estonia's Tartu University, said by phone. "In particular, to exploit various anti-systemic and counter-systemic forces, especially within the EU. In that respect, Russia will definitely try to exploit that situation."
Sanctions Position
EU visa bans and asset freezes imposed on individuals accused of involvement in Russia's annexation of Ukraine's Crimea peninsula last March are due for review in March, while sanctions including curbs on financing for Russian state-owned banks and a ban on the export of energy-exploration equipment will lapse in July. Both sets of measures require unanimous approval from the 28 EU governments to be renewed.
Still, Syriza's stance toward restrictions on Russia has been moving more in line with the EU consensus in past weeks as it has come closer to gaining power.
"A breach with NATO is not in the interest of the country," Tsipras said on Twitter Jan. 14. Greece is bound by and will comply with international agreements with the EU and the North Atlantic Treaty Organization, he said.
While sympathy in Greece toward Russia has been strong irrespective of the parties in power, Greeks "no longer expect Russia to come and save their economy" after the EU-led bailout of Cypriot banks in 2013, Arkady Moshes, head of the EU's Eastern Neighborhood and Russia research program at the Finnish Institute of International Affairs, said by phone from Helsinki.
Cyprus reached an agreement with euro-zone governments in March that year to impose losses on uninsured depositors at Bank of Cyprus Plc and Cyprus Popular Bank Pcl, the country's two biggest banks, as part of negotiations for the 10 billion-euro ($11 billion) rescue of its financial system. Russian lenders and companies had about $31 billion deposited in Cypriot banks by the end of 2012.
"If their calculation is that Russia can't help Greece economically, they still have to talk to the EU and Brussels to solve their problems," Moshes said. "So it won't benefit Greeks to bring in the element of Russian ties, their priorities lie elsewhere."
Before it's here, it's on the Bloomberg Terminal.
LEARN MORE