Priced Out of Contemporary Art? Try Old Masters for $200 Million
James Tarmy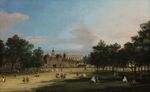 That $3 million Caravaggio is looking like a bargain compared to an $81.9 million Andy Warhol.
This week at the Old Masters sales in New York, when as much as $200 million of 15th-to-19th-century paintings, drawings and sculptures are on offer, the auction houses will try to slightly narrow the disconnect between the record prices commanded by postwar, modern and contemporary art and the much lower estimates for the older works.
Old Masters, the most popular category until the 1980s, is now a small part of the art market, and drumming up renewed interest won't be easy. The group in 2013 accounted for 10 percent of the value of the art market, with just over 1 billion euros ($1.1 billion) in sales, according to European Fine Art Foundation.
"There's no real connection between the two markets," said Otto Naumann of Otto Naumann Ltd, a New York gallery that specializes in Old Masters. "They're two totally different fields. They both just happen to be called art."
That's not stopping auction houses from trying. One of the most expensive lots of the week at Christie's is a 16th century portrait painting by Agnolo Bronzino, estimated at $8 million to $12 million, which failed to sell at the same auction house in 2013.
Christie's catalog compares the work to Warhol's portrait of Mao, and Lucian Freud's painting "The Brigadier."
Sculpture Prices
An oil painting of a vase with flowers by the 16th century German artist Ludger Tom Ring II is compared in the Christie's catalog to Jeff Koons's "Small Vase of Flowers," a polychromed wood sculpture from 1991. Ring's still life is estimated at $400,000 to $600,000. The Koons sculpture sold for $2.3 million at Christie's in New York in May 2005. More recently, a 12.5-foot-tall orange stainless steel sculpture by Koons fetched $25.9 million in November in New York at the same auction house.
Some dealers aren't convinced such promotion will work.
"The disparity between Andy Warhol and the Old Masters is just too wide to bridge," said Richard L. Feigen, the Manhattan dealer and Old Masters expert whose gallery bears his name.
Warhol was the top-selling artist at auction in 2014, according to New York-based researcher Artnet. His "Triple Elvis," a 1963 silkscreen of Elvis Presley, sold for $81.9 million while "Four Marlons," a 1966 canvas of Marlon Brando, fetched $69.6 million. Both works were sold in November at Christie's in New York.
Not Cheap
While not exactly cheap -- Sotheby's has 16 works estimated above $1 million -- the sales that begin Jan. 27 won't come near the record $2.3 billion of Impressionist, modern, postwar and contemporary art sold in November in New York.
This week, Sotheby's, which is offering 728 lots valued between $74 million and $106 million over five auctions, has 17 paintings from the collection of Jacqui Safra, a member of the billionaire Safra banking family.
Safra, a former producer of Woody Allen's films, has consigned works that include a 1732 oil painting of the Pantheon in Rome by Giovanni Paolo Panini estimated at $3 million to $5 million. Canaletto's view of London from St. James Park is estimated at $4 million to $6 million.
A 1596 oil on copper depiction of paradise by Jan Brueghel the elder is valued at $3.5 million to $4.5 million. The detailed work depicts animals flocking to Noah's ark and was seen in public only once, in a 1998 exhibition in Amsterdam.
Bronzes, Clocks
Christie's sales are slightly smaller, with 475 lots estimated at $63 million to $95 million. Highlights include 119 bronzes and clocks from the collection of Peter Guggenheim, a descendant of the Guggenheim mining family, and his partner John Abbott.
An early painting by Michelangelo Merisi da Caravaggio of a young boy peeling fruit, estimated at $3 million to $5 million, was exhibited as early as 1791 in London.
Part of the disconnect between the prices commanded by Old Masters and contemporary art are a result of provenance, or the history of ownership, and a work's authentication, Naumann said. Very old works of art have scattered sales records, if any at all.
Many Questions
"That's one reason contemporary is so high and Old Masters is not -- there's so many questions in Old Masters," Naumann said.
A work attributed to Anthony Van Dyck, estimated at $100,000 to $150,000 at Sotheby's, was displayed 14 years ago at the Metropolitan Museum of Art as a work by the British portraitist William Dobson. It was exhibited 50 years before that at the Royal Academy of Arts in London as a Van Dyck. In its catalog for this week's sales, Sotheby's described Dobson's work, stating his "broader and drier handling of paint in the latter does not suggest his authorship for the present canvas."
Old Masters works aren't in fashion especially among hedge fund managers, dealers said.
"These hedge fund guys are not going to buy Old Master paintings, even if they hear prices are a fraction of contemporary art," Feigen said. "How will it hang in some loft in lower Manhattan?"
The category is showing some stirring, however. In December in London, the Old Masters and British paintings sale at Sotheby's totaled 54 million pounds ($80.9 million), above the high estimate of 44.9 million pounds. The sale included "Rome, From Mount Aventine," an 1835 landscape of the Italian capital by J.M.W. Turner that fetched 30.3 million pounds, setting an auction record for the artist.
"We see buyers as mostly Americans or European," Henry Zimet, president of Old Masters gallery French & Co. in New York, said about sales in the category. "We've had some contact with Russian and Chinese collectors, but no business."
Before it's here, it's on the Bloomberg Terminal.
LEARN MORE