Operator of Drone That Hit White House Grounds Comes Forward
Del Quentin Wilber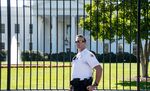 The operator of a remote-controlled copter that landed on the White House lawn has come forward and told Secret Service agents that the breach was accidental, the agency said.
The individual, who wasn't identified by authorities, called the Secret Service Monday morning and told agents that the drone was being flown recreationally earlier in the day when it crossed over the fence that surrounds the executive mansion, Brian Leary, an agency spokesman, said in an e-mail.
"The individual has been interviewed by Secret Service agents and been fully cooperative," Leary said.