Obama Moves Beyond Cold War With India as Russian Tanks Roll
David J. Lynch and Angela Greiling Keane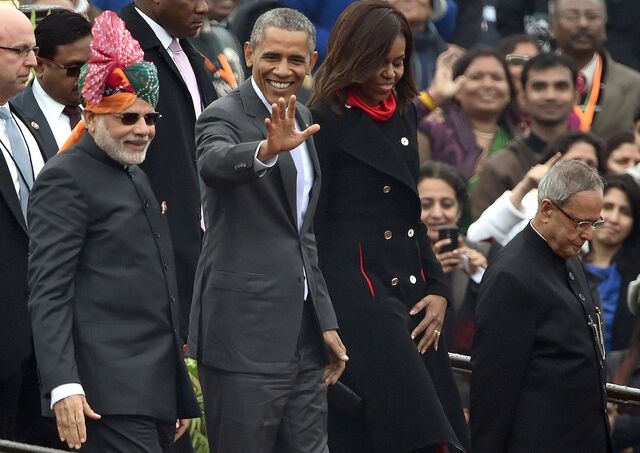 It's not every day that an American president reviews a parade of Russian military hardware.
On a rainy Monday in New Delhi, that's exactly what President Barack Obama did as the invited "chief guest" at India's Republic Day parade.
His presence personified the closer U.S.-Indian ties that officials have been at pains to highlight during the president's three-day visit. Obama looked on as Russian-made T-72 tanks -- once a mainstay of the defunct Warsaw Pact -- rolled past underneath a canopy of streaking Russian fighters.
"India obviously has a longstanding defense relationship with Russia, but the relationship with us is on the upswing," Ben Rhodes, Obama's deputy national security adviser, told reporters in New Delhi on Monday. "It's a Cold War context. That has been in the past part of the source of mistrust and differences between our two countries. But we're moving beyond that."
Reverberations from that movement are being felt in Moscow -- and even more so in Beijing, where the Chinese government has reacted to this week's Indo-U.S. summit with a mixture of scorn and defensiveness.
Global Times, a state-run paper, said "the west is egging India on" while Xinhua claimed the Obama visit was eclipsed by a "growing rapport between Beijing and New Delhi."
A joint India-U.S. statement highlighted the need to safeguard maritime security in the South China Sea, where neither has territorial claims. That prompted a rebuttal from China, which said non-claimants should butt out.
'Closer Partners'
More than anything, the Obama administration is billing the deepening relationship with India as aligning two large democracies in a battle for Asia's future.
In a speech on Tuesday, Obama said it once would've been "unimaginable" to see an American president as the chief guest for India's Republic Day parade. The U.S. welcomes a "greater role" for India in the Asia Pacific as the two countries deepen defense ties, Obama said.
"My visit reflects the possibilities of a new moment," Obama said. "As I've said many times, I believe that the relationship between India and the United States can be one of the defining partnerships of this century."
For the U.S., India is a valuable counterweight to China, as both a strategic partner and an alternative political model for developing Asian nations. China's more-than-three-decade long march from North Korean-style poverty to a $10 trillion economy has given state-run capitalism an attractive gloss.
China Suspicions
"India is a democracy despite all its faults," said Siemon Wezeman, a senior researcher at the Stockholm International Peace Research Institute. "It's a country the U.S. can easily work with; it's relatively close to the Middle East which is handy; and it shares no love for China."
India has developed more slowly than China, with growth falling below a 5 percent annual rate under the previous government. Modi was elected in May after a campaign that centered on a pledge to overhaul the economy and jump start growth. Next year, as China's economy slows, India is expected to become the fastest-growing major economy in the world, according to the International Monetary Fund.
Obama sought to open the door for U.S. companies in India with deals on civilian nuclear cooperation and defense production. Under Modi, India sees defense cooperation with the U.S. as a way to acquire more advanced technology while boosting local manufacturing.
Defense Deals
In July he raised the limit on foreign investment in Indian defense companies to 49 percent from 26 percent, catching the interest of companies such as BAE Systems Ltd. in London. Agreements were reached with the U.S. this week for production of drones and airplane parts, and to study technology for aircraft carriers and jet engines.
The deals represent a shift for India, which relied on the Soviet Union and later Russia for about 70 percent of its arms imports since 1950, according to data compiled by the Stockholm institute.
The emerging U.S.-Indian partnership will not become a full-fledged alliance, according to Indian foreign policy specialists. The country's long tradition of freedom of action in foreign affairs precludes it.
Along with his embrace of Obama, Modi has welcomed Russian President Vladimir Putin and Chinese President Xi Jinping to New Delhi. And he has refused to back U.S. economic sanctions on Russia.
Stopping Bullies
While India concentrates on economic development, it needs to avoid entanglement in foreign conflicts.
"India's not going to wave the red flag at the China bull," said W.P.S. Sidhu, a senior fellow at the Brookings India Center in New Delhi. "India's never going to be a formal military ally of any country."
Obama has said often that the U.S. isn't trying to prevent China's rise, an assertion that many Chinese officials question. With more than $560 billion in annual Sino-U.S. trade, the U.S. has a sizable economic stake in China's prosperity.
In a likely reference to both Russia's actions in Ukraine and China's maritime assertiveness, Rhodes said he wanted to prevent countries from acting like a "bully" on the world stage.
"Nobody's aiming for confrontation with China or trying to contain China," Rhodes said. "At the same time, the U.S. and India are committed to a rules-based order. We just want to make sure that all countries are following the rules of the road."
Before it's here, it's on the Bloomberg Terminal.
LEARN MORE