Blizzard Brings Northeast U.S. to a Grinding Halt
Henry Goldman and Esmé E. Deprez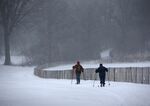 A nor'easter blizzard of historic proportions barreling up the U.S. East Coast prompted authorities to shut highways, bridges, transit systems, schools, Broadway shows and sporting events in a swath from New Jersey through New England.
National Weather Service predictions that New York residents could expect more than 2 feet of snow, with Boston and points north experiencing 36 inches (91 centimeters), sent commuters by the thousands scurrying into packed trains departing from Manhattan's Pennsylvania Station and Grand Central Terminal.
Air carriers canceled thousands of flights through Tuesday, and commuter rail service, subways and buses in and out of New York City were to stop by 11 p.m. All trans-Hudson crossings, including the Lincoln and Holland tunnels and the George Washington Bridge, were to shut too, with only emergency vehicles allowed. Amtrak suspended service for the New England region and scaled it back south of New York.
Governors and mayors warned people to stay inside and prepare for the worst as the storm began to bear down on millions of East Coast residents Monday afternoon.
"This is not a storm to take lightly," said New York Governor Andrew Cuomo, who instituted a travel ban on downstate roads. "Mother Nature has decided once again to come visit us in an extreme way."
The blizzard warnings extended from New Jersey north to Maine in the U.S., up through Nova Scotia and New Brunswick to Newfoundland in Canada.
Game Over
Early traces of the storm, which made Manhattan's streetscape resemble a shaken snow-globe, forced Broadway theaters to go dark, and canceled basketball games scheduled by the Knicks in Madison Square Garden and the Brooklyn Nets at Barclays Center. Forecasters expected the blizzard to intensify toward midnight, with as much as four inches of snowfall per hour.
The most snow to fall in Central Park in a 24-hour period was 24.1 inches in February 2006. The current forecast for Central Park is for 23.8 inches.
Mayor Bill de Blasio visited Department of Sanitation workers at the department's garage on Manhattan's west side for an evening news briefing amid rows of plows and tall mounds of salt. He urged workplaces to be flexible, saying it wasn't "a time for employers to be cheapskates."
Nor for New Yorkers who subsist on takeout food.
"We hope diners will be patient if their orders take longer than normal to arrive, and generous and appreciative when tipping their drivers," GrubHub Inc., a company that owns food-ordering websites, said in an e-mail. It called delivery workers "food heroes."
Grounded Planes
By 9 p.m. New York time, 2,832 flights had been scrubbed around the U.S., with 67 percent at LaGuardia Airport in New York, according to FlightAware, a Houston-based tracking company. In addition, 4,269 flights have been canceled for Tuesday.
Robson Caixeta, 21, had intended to fly to Sao Paulo after a month's stay with a friend in New Jersey, only to learn his 4:30 p.m. flight on Air Canada had been canceled.
"I don't have any money, I don't have a cell phone to call," Caixeta said at LaGuardia.
Rail Rage
Cuomo, New Jersey Governor Chris Christie and Governor Charlie Baker of Massachusetts declared emergencies. Connecticut Governor Dannel Malloy declared a travel ban starting at 9 p.m. and he urged people to store three days of food and water for themselves and their pets.
The Massachusetts Bay Transportation Authority will close at midnight and remain shut Tuesday. Baker issued a statewide travel ban for Tuesday.
New Jersey Transit stopped rail service at 8 p.m. and has no plans to resume before Thursday, the agency said on Twitter. The lengthy shutdown was prompted by the storm's expected duration of more than 24 hours, combined with the 12 hours required to restore trains to service, said Nancy Snyder, a spokeswoman. The railroad must inspect its 957 pieces of rolling stock and 593 miles of track, she said.
Tempers flared at Penn Station, where one stranded traveler could be heard shouting obscenities into his mobile phone about alternative ways to get to Philadelphia.
Slow Roll
Major banks shut. Throughout the affected areas, JPMorgan Chase & Co., Bank of America Corp., and Citigroup Inc. closed branches at 3 p.m., and Wells Fargo & Co. dismissed workers by 4 p.m.
Nasdaq OMX Group Inc., Bats Global Markets Inc. and Intercontinental Exchange Inc.'s NYSE Group, which operate 10 exchanges and handle 65 percent of trading volume, said they had no plans to close early or delay their open Tuesday. CME Group Inc., owner of the New York Mercantile Exchange, also plans normal market hours Tuesday, spokesman Chris Grams said.
The storm will have a devastating impact because it is traveling slowly, said Tom Kines, a meteorologist with AccuWeather Inc. in State College, Pennsylvania.
Gusts as strong as 60 miles per hour will endanger lives and property, Kine said. Snapped tree limbs will damage homes and knock down power lines, leaving homes without heat. Whiteout conditions and icy roads will make driving hazardous, he said.
"Snow drifts of six to eight feet high are possible," Kine said. "You have to worry about roofs too. There will be a lot of weight from the snow on roofs."
Also Floods
The National Weather Service posted hurricane-force wind warnings for waters just off the eastern tip of Long Island. The Massachusetts coastline also may experience moderate flooding with high tide coming at 4:30 a.m., said Alan Dunham, a Weather Service meteorologist in Taunton.
Connecticut officials expect more than 100,000 homes to lose power. Malloy said the National Guard and U.S. Coast Guard are in place to help and the Connecticut Department of Transportation has its entire fleet of more than 600 crews active.
In New York, sanitation trucks began plowing and salting as soon as snow started accumulating on the city's 6,000 miles of road, de Blasio said in a briefing.
Shortly after nightfall, Scott Taub, a 46-year-old accountant, trained his gaze on a tablet computer in a restaurant at the Clarion Hotel near LaGuardia airport after flight delays left him unable to reach Chicago before Wednesday.
"I gambled and lost this time," Taub said.
Before it's here, it's on the Bloomberg Terminal.
LEARN MORE