Mubarak's Sons Released From Egyptian Prison, Official Says
Tarek El-Tablawy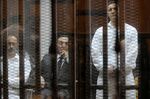 The two sons of former Egyptian President Hosni Mubarak were released from prison, a day after clashes marked the fourth anniversary of the uprising that drove their father from power.
Alaa and Gamal Mubarak left Cairo's Torah Prison after a court on Jan. 22 ruled they should be freed ahead of a retrial on corruption charges, a prison department official said by phone. He spoke on condition of anonymity because he wasn't authorized to comment.
Their release could stoke anger among activists and other Egyptians who accuse the country's rulers, led by President Abdel Fattah El-Sisi, of restoring the police state that flourished under Mubarak in a bid to crush dissent. El-Sisi's government says tough measures are required amid unrest at home and across the Middle East.
The 2011 revolt ended Mubarak's 29-year rule, during which activists say income inequality deepened and human rights violations were commonplace. At least 18 people were killed in weekend clashes with police at rallies to mark the revolt, health officials said.
Mubarak and his sons were accused of embezzling funds allocated for the refurbishment of presidential palaces. The former autocrat this month had his own three-year prison sentence for corruption overturned, a ruling that may pave the way for his release as he awaits retrial.
Charges linked to his alleged role in the deaths of more than 900 protesters during the 2011 uprising have been dropped on technical grounds.
Mubarak has spent much of his time in custody in a military prison hospital not far from the jail where Alaa, a wealthy businessman, and Gamal, groomed to be Mubarak's heir, had been held.
Before it's here, it's on the Bloomberg Terminal.
LEARN MORE