Kobe Bryant to Have Shoulder Surgery, Probably Ending NBA Season
Mason Levinson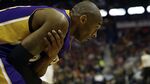 Kobe Bryant agreed to have surgery on the torn rotator cuff in his right shoulder, a procedure that will probably rule him out for the remainder of the National Basketball Association season.
The Los Angeles Lakers guard, who on Jan. 22 was voted an NBA All-Star for the 17th time in his 19-year career, had an examination yesterday morning during which his doctor confirmed a diagnosis of a torn rotator cuff and recommended surgery, the Lakers said in a statement posted on their website.
"Bryant has agreed, and surgery has been scheduled for Wednesday morning," the Lakers said. "A timeline estimate for Bryant's return will be issued following the surgery."
The 36-year-old Bryant suffered the injury in the second half of the Lakers' Jan. 21 game at the New Orleans Pelicans. Having skipped the two previous games as part of coach Byron Scott's plan to rest him, Bryant continued playing left-handed after the injury, finishing with 14 points.
The Lakers are 12-33 this season and early in the campaign Bryant was criticized for taking too many shots. As the season progressed he opted to shoot less and pass more, Scott told reporters this month.
"This is what happens when I pass too much! #ShoulderShock thank u all for ur thoughts and prayers," Bryant said last week on Twitter.
Bryant is third on the NBA's career scoring list with 32,482 points, trailing Kareem Abdul-Jabbar (38,387 points) and Karl Malone (36,928 points). Trailing Abdul-Jabbar by 5,905 career points, Bryant probably will have to play four complete seasons at his current scoring level to break the record. His 22.3 points per game this season rank ninth in the league.
Bryant hasn't played a full season since 2012-13, having been held to six games last season due to a knee injury.
Before it's here, it's on the Bloomberg Terminal.
LEARN MORE