Iran Nuclear Deal Prospects Fade as Israel Opposes Terms
Terry Atlas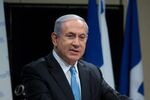 The odds of reaching a deal to prevent Iran from developing nuclear weapons that could pass muster in Tehran, Jerusalem and the U.S. Congress are growing longer.
U.S. officials have never said the chances of success were better than 50-50, and privately some American negotiators are much more pessimistic than that as the negotiations head toward a March 24 deadline to agree on a political framework.
Israeli Prime Minister Benjamin Netanyahu said Monday that he "strongly objects" to the terms of the potential nuclear deal. That's a message he's likely to press when he comes to Washington in March, shortly before Israeli elections, to address a joint meeting of Congress and rally pro-Israel activists to lobby lawmakers too.
"The agreement now being formulated between the major powers and Iran is unacceptable to Israel," Netanyahu said in comments during a visit to a defense company in Yehud, near Tel Aviv. "This agreement is dangerous to Israel, to the region and to the world."
Netanyahu's push to kill a deal will further strain his relations with President Barack Obama, who's made getting a nuclear agreement one of his foreign policy priorities.
"Netanyahu believes the pending agreement would destroy the whole sanctions framework and allow Iran to continue its illicit nuclear program, and his strategy is try to use the Republican Congress as a counterweight to Obama's determination to seal a bad deal with Tehran," said Gerald Steinberg, a political scientist at Bar-Ilan University near Tel Aviv. "The only other option for him would be military action, which would create even more friction with the U.S."
International Wrangling
The U.S., the five nations that are its negotiating partners and Iran are wrangling over the terms of a deal that would limit Iran's nuclear capabilities to prevent the Islamic Republic from developing nuclear weapons. Iran says its nuclear program is solely for civilian purposes.
Obama said in his State of the Union address this month that the bipartisan move in Congress for further sanctions legislation "threatens to derail" the talks. He said he'd veto such a measure to "give diplomacy a chance to succeed."
Democratic Senator Dianne Feinstein of California on Monday denounced sanctions legislation, such as a bill offered by Republican Senator Mark Kirk of Illinois and Democratic Senator Senator Bob Menendez of New Jersey, as "reckless and dangerous."
Menendez abruptly shifted his position on Tuesday and said he now supports delaying a Senate floor vote until after the March 24 deadline in the talks. He was joined by Democratic colleagues including Chuck Schumer of New York, the Senate's No. 3 Democrat, in a letter to Obama.
'Viable' Deal
Republican Senator Richard Shelby of Alabama, the chairman of the Banking Committee, has scheduled a meeting of the panel on Thursday to act on the Kirk-Menendez bill. He said the Senate should move ahead because more pressure on Iran is needed to produce a "viable" deal.
The major pro-Israel group, the American Israel Public Affairs Committee, has told lawmakers that the imposition of further sanctions is needed to get a good deal from Iran.
The chairman of the Senate Foreign Relations Committee, Republican Bob Corker of Tennessee, said Tuesday that "the last thing" Congress should do is pass legislation now that lacks enough votes to overcome an Obama veto.
Corker said last week that he's drafting legislation that would a require a congressional review of any agreement. An accord wouldn't be a treaty requiring Senate ratification, though only Congress could lift U.S. sanctions on Iran permanently, as a deal would call for.
'Sham' Negotiations
Blowing up the talks is a goal for some U.S. lawmakers backing the imposition of more sanctions, such as Republican Senator Tom Cotton of Arkansas, a member of the intelligence and armed services committees, who advocates a U.S. policy seeking regime change in Iran.
The end of the "sham" negotiations "isn't an unintended consequence of congressional action," Cotton said two weeks ago at the Heritage Foundation, a Washington policy group that reflects Republican and conservative views on many issues. "It is very much an intended consequence -- a feature, not a bug, so to speak."
Iran has its hard-liners too. While they have criticized Foreign Minister Mohammad Javad Zarif, the country's top negotiator, the only opinion that matters is that of Supreme Leader Ayatollah Ali Khamenei. U.S. officials have questioned whether he will permit Iranian concessions sufficient for a deal.
Israel's Objections
The nuclear capabilities that Iran would be allowed to retain are the crux of Israeli objections and are sure to be scrutinized by Iran's other regional foe, Saudi Arabia, which has raised the prospect of developing its own nuclear weapons in response to Iranian actions.
Last week, the head of Israel's Mossad intelligence service, Tamir Pardo, highlighted Israel's objections to "the bad deal" when he met with a group of visiting senators led by Republican John McCain of Arizona.
The Mossad chief "pointed out explicitly that the bad agreement taking shape with Iran is likely to lead to a regional arms race," according to a statement from the agency.
Iran won't make necessary concessions without more pressure such as increased sanctions, even if that amounts to "throwing a grenade" to create a "temporary crisis" in the talks, according to the statement. Some former U.S. officials, using a metaphor for bargaining in a bazaar rather than a military one, argue that America and its allies must walk out of the talks to wrench the necessary concessions out of the Iranians.
Evident Disputes
While U.S. officials say that nothing is agreed upon until everything is agreed upon, the issues in dispute were evident in Senate testimony last week by Deputy Secretary of State Antony Blinken.
Central to the debate, Israel wants measures to dismantle parts of Iran's nuclear infrastructure so it would be unable to develop nuclear weapons. Blinken said the deal taking shape wouldn't go that far and, with intrusive inspections, would ensure that cheating by Iran would set off a trip-wire warning.
"Any agreement must give us confidence that should Iran choose to break its commitments, it would take at least one year to produce enough fissile material for a bomb," he told the Senate Banking Committee.
That reflects that the U.S. envisions allowing Iran to retain limited capabilities to enrich uranium for nuclear power, which is also an essential step to producing nuclear weapons. Israel has said Iran has no need for that technology except to maintain a potential weapons capability.
Netanyahu's Objections
Netanyahu said Monday that such terms leave "Iran the ability to produce the necessary material for a nuclear bomb within a few months and afterwards to produce dozens of nuclear bombs."
The U.S. and its negotiating partners -- China, France, Germany, Russia and the U.K. -- concluded months ago that sticking to a zero-enrichment demand would kill any chance of reaching an agreement because Iran would never accept it, Blinken said.
"I think it became clear not only to us, but also to all of our partners, that Iran was not going to give up, as a practical matter, some very limited forms of enrichment," he said.
The world powers conceded that Iran would retain some enrichment capability when they approved the current interim accord, which has frozen or rolled back some of Iran's activities, Blinken said.
In his Senate testimony, Blinken said the world powers can live with that, and he rejected the idea that airstrikes, such as those threatened by Israel, would thwart Iran's nuclear activities in the long term.
No Military Solution
"We can't eliminate that knowledge," he said. "Nothing we do can do that. We could not sanction-away that knowledge. We can't bomb it away."
Other U.S. officials have said that Israeli forces lack the long-range air and missile arsenal needed to destroy Iran's deeply buried uranium enrichment facilities and other widely scattered and well-defended elements of its nuclear program.
To put nuclear weapons out of reach, as Israel has done through airstrikes in Iraq and Syria, would require the U.S. to join in attacking Iran, these officials have said. Even that might provide a few years' delay before Iran rebuilt its capabilities, the officials have said.
Before it's here, it's on the Bloomberg Terminal.
LEARN MORE