How Airlines Got Smarter About Canceling Flights
Nasty weather didn't always mean mass flight cancellations
By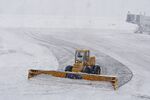 It's as certain as cold in winter: When weather folks turn breathless about a pending apocalyptic snowstorm, airlines hasten to cancel flights as early as possible.
That process is playing out this week as a large portion of the Northeast prepares for as much as 3 feet of snow in some areas. The world's two largest airlines, American and United, are closed for business on Tuesday at five large airports in the region, including United's Newark (N.J.) hub. American plans to wind down flights tonight at New York's three main airports, as well as in Boston and Philadelphia. Boston's Logan International Airport plans to close at 7 p.m. local time tonight and reopen on Wednesday. Collectively, Delta Air Lines, JetBlue Airways, and Southwest Airlines also expect thousands of cancellations. In other words, if you were hoping to fly to or from the Northeast on Tuesday, it's time to make other plans.
In many ways, the dramatic numbers of flight cancellations before winter storms is great news for travelers, given that U.S. airlines once treated "irregular operations" as a matter of canceling flights only when they were forced to do it. "The old mentality was, you fly as long as it's safe to fly," says Seth Kaplan, managing partner of Airline Weekly, an industry journal. That approach led to a steady diet of airline horror stories, with a 1999 Northwest Airlines flight to Detroit offering one notable example: Passengers were trapped aboard the plane for seven hours after a flight from the Caribbean that took 22 more hours in total. Eight years later, in 2007, JetBlue mortified the nation—and many of its own employees—with an operational meltdown that stranded thousands of people at New York's JFK International Airport.
Those episodes had many clamoring for better service pledges from carriers when weather fouled flight operations. Airlines did not police the issue, nor were they inclined to cancel flights en masse, given that weather is so tricky to predict accurately. In 2009 the U.S. Department of Transportation announced new rules requiring airlines to let travelers deplane after delays of three hours—with a penalty of as much as $27,500 per passenger for every violation. Airlines howled and predicted widespread traveler inconvenience due to many more cancellations caused by the rule. "The industry kind of did it to itself," says Robert Mann, an aviation consultant and a former American Airlines executive. "It failed to act, so it got acted on."
The airlines were right about one aspect of a regulatory rule they consider draconian: The cancellations have materialized, but the public's displeasure has not. People no longer sit in the airport as much, pondering whether a particular flight will or won't happen and how many hours a delay might last. "The way airlines do things nowadays works pretty well," Kaplan says, noting that late January "is as off-peak as it gets," so seat availability will be easier to manage later in the week and during the weekend.
Now when inclement weather strikes, airlines focus on getting planes and crews out of airports that storms will sock, aiming to make it easier to restart their operations. That's what JetBlue did in January 2014 when it shut down its operation for 17 hours amid heavy snow to try to get equipment and employees back in place. That decision surprised many travelers and garnered the airline some criticism for a perceived lack of preparedness. "The JetBlue of the past challenged the weather and tried to operate through it. The JetBlue of the current gets out of the way of the weather," former Chief Operating Officer Rob Maruster said at the time. (He left the company three months later.)
Amid all the sophisticated software to track their logistics, airlines have another good reason to cancel more flights: No one can get to airports safely. "It places them in danger, and there's just no reason for it," Mann says. "You don't want your employees or your customers to be put in a position like that."
Before it's here, it's on the Bloomberg Terminal.
LEARN MORE