How a Failed Suicide Bomber Became Center of Hostage-Swap Talks
David Tweed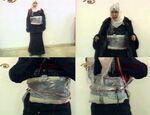 Sajida Al-Rishawi hid a belt of explosives and another packed with ball bearings under her baggy, floor-length coat and set off with her husband to blow up a hotel full of wedding guests in Jordan's capital in November 2005. Her bomb failed to explode.
Nine years later, Al-Rishawi is at the center of a hostage-swap demand after Islamic State militants sought her release from a Jordanian prison where she's held on death row in exchange for Kenji Goto, a Japanese journalist they've threatened to kill. A shackled Goto explained the group's demands in a Jan. 24 video where he held up a photo of the decapitated body of a second Japanese hostage.
The purported Islamic State demand has sparked a torrent of speculation about why this woman in her mid-40s has been singled out. The answer may be explained by a combination of her links to Abu Musab Al-Zarqawi, the Jordanian-born leader of al-Qaeda's Iraq branch, killed in a 2006 U.S. air strike, and an attempt by Islamic State to test the waters for high-value prisoner swaps.
"Getting governments started on the habit of prisoner swapping is kind of like a gateway drug," Joseph Franco, an associate research fellow at the S. Rajaratnam School of International Studies in Singapore, said in an e-mailed response to questions. "You start with a little weed, then you end up with really nasty stuff up your veins."
Zarqawi Aide
Last year, Jordan returned a Libyan jihadist in exchange for the Jordanian ambassador to Libya, who had been taken hostage. Jordan may be willing to release Al-Rishawi in exchange for the release of Goto and a Jordanian pilot who was captured by Islamic State when his plane crashed in Syria last month during a mission against the militant group, Kyodo News said Tuesday, citing two members of Jordan's parliament.
Al-Rishawi is the sister of a close aide of Al-Zarqawi, who was one of the masterminds of the Amman hotel attacks, Jordan's Deputy Prime Minister Marwan Muasher told Cable News Network in 2005.
The proposed prisoner swap "is very illustrative of where they trace their narrative from -- Al-Zarqawi is the fountainhead of Islamic State not al-Qaeda," said Sajjan Gohel of the London-based Asia Pacific Foundation think-tank. "Zarqawi was the individual who brought beheadings to Iraq, created sectarian conflict, carried out attacks against western troops, killed people who didn't abide by his rule. He was also an individual who fell out with the al-Qaeda leadership."
By saving Al-Rishawi, Islamic State would "boost the morale of its fighters," said Fayez Dweiri, a retired major general in the Jordanian army and a military analyst.
Husband's Role
Al-Rishawi was spared execution after Jordan imposed a moratorium on the death penalty in 2006. Capital punishment was revived in 2014, putting al-Rishawi at risk.
In a 2005 confession on Jordanian television days after the hotel bombings, Al-Rishawi described her journey from Iraq to Jordan and how her husband had taught her how to use the bomb in a rented apartment, according to an account in the Guardian newspaper.
Al-Rishawi described the wedding at the hotel attended by children, women and men, and said that once inside the venue, she had gone to one corner and her husband the other.
"My husband organized everything," Al-Rishawi said in the Jordanian broadcast, translated and aired on CNN. Her husband detonated his bomb and she tried to explode her belt but it wouldn't detonate, so she "left running" with other people in the hotel. Al-Rishawi fled to an apartment where she was later arrested.
Devout Christian
During the broadcast Al-Rishawi was shown wearing the disarmed explosive belt over her coat and demonstrating how she planned to pull a red cord to detonate the explosives, the Guardian reported.
Japan's Chief Cabinet Secretary Yoshihide Suga said Monday that the militant group's video appeared genuine and that the murdered hostage was Haruna Yukawa, a self-styled security contractor. Yukawa was captured by Islamic State in July, prompting Goto, a devout Christian and acquaintance of Yukawa, to head to the northern Syrian city of Aleppo to seek his release.
Before it's here, it's on the Bloomberg Terminal.
LEARN MORE