Hedge Funds Shorting B&O Hit by Price Surge on Takeover Bets
Christian Wienberg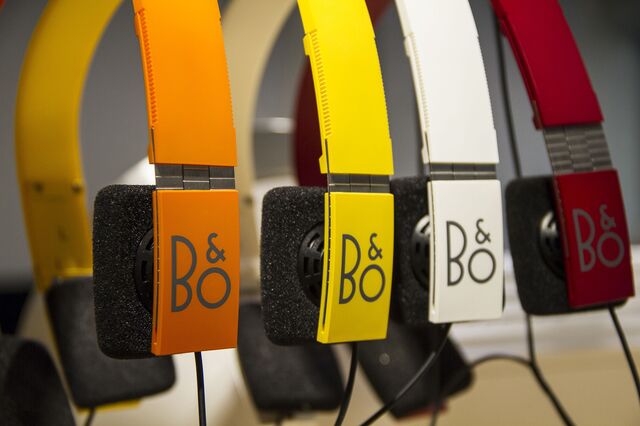 As Bang & Olufsen A/S shares jump amid takeover speculation, hedge funds that have quadrupled bets against the luxury stereo-maker are watching their short positions plunge in value.
"There are people in the market who are quick to speculate in takeover cases," Ole Kjaer Jensen, head of share trading at Sydbank A/S, said by phone. "Now, with the high short interest in the stock, we're seeing a short squeeze as some people might want to get out."
Short interest in B&O soared to 12.4 percent of the company's free-floating stock on Jan. 22, four times the level recorded a year ago, according to data compiled by Markit and Bloomberg. B&O was the most shorted stock in western Europe last week, according to Markit.
Today, B&O shares jumped as much as 15 percent in Copenhagen trading after newspaper Berlingske said the company hired Carnegie Investment Bank AB to help find possible buyers. B&O Chairman Ole Andersen told the same paper last month that the firm is too small to stay independent and must either reduce the scope of its business areas or seek partners, after cutting its earnings forecast.
B&O won't comment on whether it has hired any banks to find a buyer, Claus Hoejmark Jensen, head of investor relations, said by phone.
The practice of short-selling means investors borrow stock and sell it, betting it will decline so they can make a profit when they repurchase it.
Hedge Funds
Firefly Value Partners' FVP Master Fund is one of the hedge funds betting against B&O shares. The fund was short on 2.22 percent of all B&O shares, according to a filing published Jan. 23 by the Danish Financial Supervisory Authority. The fund gradually expanded its short position from 0.81 percent in late October, according to Danish FSA filings. A Firefly spokesman said earlier this month the New York-based fund won't comment on its positions.
"B&O has faced a string of different problems in recent years with the sales network, with products, with bottle necks and with the weak European economy," Jesper Christensen, an analyst at Alm. Brand A/S, said by phone. "Even though the company's problems seem to be very varied in type, they can perhaps be boiled down to B&O being a small company. As a small company, B&O is much more sensitive to problems."
Finding Buyers
B&O shares lost 21 percent last year and have dropped about 90 percent since their 2006 peak. The stock rose 13 percent to 41.30 kroner as of 12:20 p.m. in Copenhagen with trading volume at 257 percent of the three-month daily average.
In June, the company sold new shares, equivalent to about 10 percent of the existing capital, at 66 kroner a piece, or 45 percent above last week's closing price.
"It will be hard for a buyer to find enough stock holders willing to sell at around current levels, because most of them have bought at a much higher price," said Alm. Brand's Christensen, who has a neutral recommendation on B&O. It's "most likely that B&O will stay independent also in the longer term. I think the stock is fairly priced at about the current level."
Before it's here, it's on the Bloomberg Terminal.
LEARN MORE