GrubHub to New Yorkers: Tip Your 'Food Heroes' Well During Storm
Allison Prang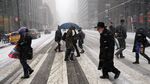 New Yorkers who subsist on takeout food could be the first victims of the massive blizzard bearing down on the northeastern U.S.
Mayor Bill de Blasio is blocking city streets to nonessential traffic starting at 11 p.m. on Monday, and he made it clear that includes delivery bikes. Still, food-ordering websites Seamless and GrubHub, which connect online customers with local restaurants, aren't suspending service in New York and other storm-ravaged cities. GrubHub Inc., the company that owns both services, is leaving the decision of whether to deliver food to individual eateries.
The company requests, though, that customers be patient -- and tip their delivery people well.
"These food heroes are braving heavy snow, strong winds and frigid temperatures to ensure diners can still enjoy their local favorites from the comfort of their warm homes," the company said in an e-mail. "With this in mind, we hope diners will be patient if their orders take longer than normal to arrive, and generous and appreciative when tipping their drivers."
De Blasio's ban on traffic would seem to put a damper on restaurants shuttling food around New York, though delivery people could brave the elements on foot.
"The food-delivery bicycle is not an emergency vehicle," De Blasio said at a press conference on the storm. "Nothing that has to do with leisure or convenience, or takeout food, or going to movies -- we're not doing that. As of 11 p.m., get out of the way so that we can make this city safe."
Allie Mack, a spokeswoman for GrubHub, said it's "advising our restaurants to adhere to local safety guidelines."
Individual restaurants are free to close down whenever they want, she said, "whether it be due to inclement weather, staff shortage, food shortage (due to an increase in demand) or safety concerns."
Before it's here, it's on the Bloomberg Terminal.
LEARN MORE