Euro-Area Finance Chiefs Seek Tsipras Deal That Avoids Writedown
Ian Wishart and Corina Ruhe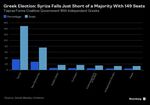 Euro-area finance ministers signaled their willingness to strike a deal with the new Greek prime minister, Alexis Tsipras -- so long as he drops his demand for a writedown on the nation's debt.
The 19-nation bloc's finance chiefs staked out their positions ahead of a gathering in Brussels on Monday where the overwhelming victory of Tsipras's anti-austerity party, Syriza, in yesterday's Greek election was set to dominate discussions.
"Yesterday was the time for elections, today is the time for a government and tomorrow, the days to come, will be time for discussion and mutual discovery," European Commissioner for Economic Affairs Pierre Moscovici said before today's talks got under way.
Tsipras's election victory, built on a pre-election pledge to ease the terms on Greece's 240 billion-euro ($270 billion) aid, challenges European Union officials insistence that a regime of German-inspired austerity must be the condition for financial support. While Tsipras promised Greeks he'll seek a writedown on the country's debt from the European Central Bank, the International Monetary Fund and the euro area, most of the finance ministers said that is not up for debate.
Monday's meeting comes too early for Greece's incoming government to send its own finance minister. The euro area is waiting for Tsipras to spell out exactly how he plans to negotiate Greece's future financing needs, with the country projected to run out of money by July at the latest.
Concessions to Greece
While ruling out a writedown, officials offered several areas for potential compromise.
The deadline for Greece to qualify for its next aid disbursement is set to expire at the end of February and Thomas Wieser, the European Union official in charge of preparing meetings of euro-area finance ministers, told Austrian radio ORF on Monday that that he expected this to be extended, "to allow both sides to move toward each other."
Malta's finance minister, Edward Scicluna, offered the clearest outline of the sort of deal that might be available to Tsipras.
"There will probably be concessions, not on the debt burden, but the conditions for structural reforms imposed by the EU, ECB and IMF," Scicluna said by e-mail. "Any concession may be put on table for discussion, except for writing off" debt, he added.
Schaeuble's View
Italy's Pier Carlo Padoan said finance ministers will be studying "many options" for a deal and even Wolfgang Schaeuble, the German finance minister who has repeatedly said there can be no diversion from Greece's rescue program, suggested there may be room for maneuver.
"Nobody is forcing anything onto Greece but the obligations apply," Schaeuble said on his way into the meeting. "I don't think it makes any sense now" to talk about a debt writedown.
The Netherlands' Jeroen Dijsselbloem, who's leading today's meeting, said there is little support among ministers to write down the nominal value of Greece's debt. Austria's Hans Joerg Schelling said Tsipras will have to abandon much of his electoral platform in order to retain financial support from the rest of the currency bloc.
"I have no doubt, even without going to the meeting, that there is sympathy for the Greek people and that there will be a disposition among colleagues to be helpful," Irish Finance Minister Michael Noonan said. "What exact format discussions will take, that will be discussed today, but really it won't crystallize until the new Greek finance minister representing a new government is sitting at the table."
Before it's here, it's on the Bloomberg Terminal.
LEARN MORE